Christine the Hedgehog
Christine was the 3rd great grand mother of Klinx. She was a singer and had a complicated relationship with Erik the Weasel. However, they ended up having a son together.
Personality
Christine was quiet and imaginative. She frequently seemed distracted. Although her distractedness sometimes hindered her she was very talented and stood out for it once she made her debut. She also had a strong will at times when it came to something she believed in.
Appearance
She is a white hedgehog with pink spines and brown eyes. Her muzzle is a greyish color with a tinge of lavender. She wears a pale lavender dress with long gloves and lavender shoes.
Background
Christine's father was a famous violinist but he died when she was 13.
Relationships
Family
Clank the Weasel
Clank the Weasel

Also known as

Anti-Klinx, Country

Species

Weasel

Height

2 ft 7 in

Weight

40 lbs

Age

22

Birthday

December 29, 1989

Alignment

Evil, Anti-Team Weasel

Occupation

Farmer

Likes

Tractors, plaid, spitting, hard work, guns

Dislikes

Sophistication, gambling, fancy speech
Clank is the anti or Moebian version of Klinx the Weasel.
Personality
Unlike Klinx, he is not sophisticated at all. He has a country accent and uses slang and poor grammar. He also has a tendency to spit and the like. Since he is a counterpart of Klinx, he has intelligence but uses it in a very different way. Clank is an expert with explosives and other weapons. He also has a super modified tractor complete with lasers and rockets. He calls Klinx a "City Slicker".
Appearance
Clank looks similar to Klinx except with messy hair and he wears a plaid shirt.
Relationships
Family
Friends
Macaber the Giant Hedgehog
Enemies
Roleplay Appearances
Erik the Weasel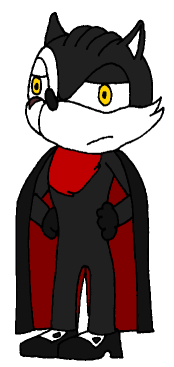 Erik was the 3rd great grandfather of Klinx. He was an architect and had a good bit money. Unfortunately, after his and Christine's deaths their son blew all of the money, causing the next several generations all the way down to Snike to grow up poor.
Personality
Erik was intelligent and eccentric. He did artistic things that he felt that often didn't make sense to others.
Appearance
Erik is a black weasel with red chest fur and a white patch on his face as well as a white muzzle which is fluffy on one side. He has yellow eyes and a scar under his right eye. He wears a red and black cape along with black shoes with white spats on them and black gloves.
Relationships
Family
Lila the Weasel
Lila is Klinx's mother and Snike's wife.
Personality
She is rather reserved and polite, but with an independent streak.
Appearance
She is a thin weasel with silky black fur.
Background
She grew up in a sophisticated and conservative family. When she met Snike her family didn't approve of him but she married him anyway. They then got a house in Hill Top Zone where Lila raised their son while Snike was frequently away.
Relationships
Family
Moff the Weasel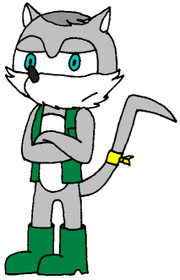 Moff was Klinx's grandfather and Snike's father. He was always poor and eventually resorted to stealing things to survive.
Appearance
Moff is a scruffy looking silver weasel. He has a white muzzle and white on his stomach. His eyes are teal. He wears a green vest and green boots and a yellow band tied around his hooked tail.
Relationships
Family
Erik the Weasel (Great grandfather)
Christine the Hedgehog (Great grandmother)
Snike the Weasel (Son)
Lila the Weasel (Daughter-in-law)
Klinx the Weasel (Grandson)
Community content is available under
CC-BY-SA
unless otherwise noted.