Kira Gasame the Wolf

Age

170

Birthday

19 of March

Height

2'7"

Occupation

Fight against Eggman's forces, Help people, and fight aginst Evil (When she can)

Likes

Run around, make new friends, eat, train to get stronger, caring (Is very needy), take a role with friends and children.

Dislikes

To underestimate for being a female (Quoted above), swim, spiders, flirt with her out of nowhere, very feminine clothes and stand still for a long time (Energetic).
Kira is an anthropomorphic wolf created by me in September of 2017, wolf of dark gray and red fringe wishes to be a heroine as her idol Sonic the Hedgehog. (Sorry for bad english, im using a translator)
Looks
Kira is a dark gray wolf with green eyes, a red fringe next to a sweatshirt of the same color, green wrist rings, white gloves, gray pants, shoes the same color of his hair next to green and white color details. (The Oc belongs to me but the art does not, I credit the proper authors.)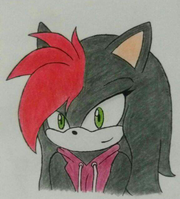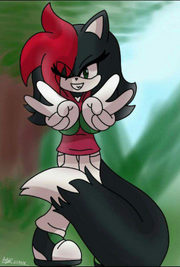 Personality
Kira is a playful wolf who likes to make friends wherever she goes. Usually does not show much seriousness, but when it is necessary she can be serious. She does not like being left behind, and (nor) is always available for some adventure, Sometimes she's sad but she does not want her friends to worry about it. But she has a side that only her closest friends know is her shy side, Kira can not hide the love she feels if she likes someone. She starts stuttering, blushing like crazy, looking sideways as she looks away, fainting and becoming very nervous.
Strengths and Powers
Kira's strengths are hand-to-hand combat, since she has developed since she was a child, training her to fight head-on with almost every enemy.
Kira is also a user of Photocinese, so she can manipulate, solidify and use light to her advantage in both fights and in locomotion
General Info
Currently Kira is 170 years old, is a friendly traveler in search of a good adventure and helps anyone in danger or in need (Inspired by her idol Sonic the hedgehog)
Items Currently In Possession
Shiny Diamond (Sword)
None
History
Kira was born in Wood Zone, the same as her family and her two brothers, the wolf lived a normal life in a village on the spot and was very fond of exploring the place around her. But everything changed after an event. It was night when everything happened, the wolf could not sleep and then she got up in her bed and And jumped out of the house with the help of an open window leaving her house, walking towards the big trees. The wolf was already accustomed to the silence and the scary scenery around her because it wasn't the first time she had done that. As soon as she walked through the forest Kira sees a yellow light as if someone were setting fire to the place, half frightened the little wolf runs to the place fearing it was a fire, but all she found were men who looked like thieves holding a kind of blue jug and protecting it with their lives.
The wolf then decides to hide because she did not want to risk anything for now, it was not long before another group of what also appeared to be thieves invade the place, some of them started to argue and soon a big fight happens between everyone nearby and the wolf besides hiding also protect herself in the place, an oversight happens and then the blue jug falls to the ground revealing a great shadow in the place. The shadow goes through all the bandits but nothing happens and everyone gets confused, then the shadow locate Kira where she was hiding and goes to the Wolf at a high speed, surrounding the poor wolf like a whirlwind and soon would gradually enter into his body. The wolf screams in despair and soon the sky is covered with the help of clouds, lightning and thunder fall from the sky that it seemed that a great storm was approaching until a ray falls a little close to all and soon everything returns to normal.
Nobody was not understanding anything else at that moment, one of the thieves was sent to verify the situation and even with fear was forced to go check it, when he came near was hit with a punch on his face. A kind of blue arm made of an Strange energy sending the bad guy away, soon the wolf had a dead look on her face and more of those blue arms (located on her back) began to appear and soon they supported the ground to raise the wolf as if it were a spider standing with its two paws on the ground and the others the sample, soon the wolf raises one of his arms and then the arms (less those that are on the ground) Attack everyone else, even fighting back no one had chance against the wolf and soon everyone was on the ground. Immobilized and heavily injured. When she was about to make the final attack, someone was approaching towards her and the thieves, making her blue arms disappear and the wolf falls to the ground.
The next day the wolf strangely wakes up in her bedroom, she thought that everything she had seen was a dream and sighed with relief, then when she stood up and looked at herself in the mirror in front of her and took a fright. Her hair was turning black and her fringe a shade of red (Yes, Kira had a different color of fur before the event), she screams, startled by this sudden change, catching the attention of her desperate father entering her room. Soon after calming his daughter he explains everything that happened when he arrived at the place where he was last night. When he arrived he only saw many injured men running away from him and when he saw her, his hair was beginning to change color and she was fainted, his father gave her a big hug to comfort the Wolf and also was afraid of losing his only daughter. Kira hugs him back, still not believing that all of this has happened, and that she can hurt a lot of people in that way because she is usually very pacific, her father then decides to leave her room to give her some space to rest.
The wolf still observes her appearance in the mirror and soon realizes that she has also won certain rings of green wrist, strangling them and watching them with a confused face and soon a creature with a silhouette similar to the time eater appears while holding the shoulders of Kira , the wolf gets scared but covers her mouth not to scream again. After calming herself she asks still a little scared who was the creature she was seeing at that moment, the being presents itself as Heartless and that would be his guide to what would come next.
Years passed and the traces of her original hair were gone, Heartless wants her to follow the path of the shadows and destroy all the mobs but fights the being inside her head to reject her bad desires, the wolf then travels around in search of adventures to overcome the limits of his powers and his strength. Besides wanting to meet new friends on the journey.
Appearances
None
Roleplays
None (I'm new and i Like Rp so you can call me to one if you want)
Fanfictions
---
Other Appearances
---
Relationships with Other Characters
Diamond the Hedgehog:
Kira's mother, the person who taught her that not everything needs to be solved with violence, Sweet, gentle and calm when treated well. But it can also be aggressive when they threaten the lives of her family or innocent people. It was with her that Kira got her light powers and learned them to use them correctly
Spark the Wolf:
Kira's father, unlike his mother Sparky, thinks that fighting is one of the best methods to defend himself, so he decided to teach everything he knows about fighting for his children even as a local healer. With Kira it was no different, it was from her father who learned her fighting strokes and with whom she trained with her strength.
Djarik (Dj) the Hedgehog:
Kira's eldest brother, Always determined to help his family when they need help, and very protective when it comes to his brothers, especially for his sister Kira, for reasons of jealousy and distrust.
Axel the Hedgewolf:
Kira's younger brother, smiling and energetic always shows his gentle side to everyone (even to his enemies and people who do not deserve it), when he can, he helps Kira overcome his shyness since he is usually very open with almost everyone and also his family, Counting people in need even looking too young for work.
Matt the Coyote:
Kira's uncle, his whereabouts is unknown, and all that is known is that he mysteriously disappeared in search of a magical item.
Characters by the same creator
Family
Diamond the Hedgehog
Coming Soon
Sparky the Wolf
Coming Soon
Djarik the Hedgehog
Coming Soon
Axel the Hedgewolf
Coming Soon
Matt the Coyote
Coming Soon
---
Friends
(Adding up later)
---
Enemies
None
Other characters
None
Family
None
---
Friends
None
---
Enemies
None
---
Fun Facts
If you noticed congratulations, Kira was created in the famous (?) Female Furry dollmaker
Kira considers herself a weak being, and because of that she dont want to battle most of the time because of it, But in fact she has a great potential, which can hit head on with Many.
Kira has an evil entity inside her body (History above)
Kira has transformations but rarely uses them, two of them are unknown and only one person could see one of them.
Kira when she is nervous afraid or Shy around somene she usually speaks different languages, but she does not know that ends up being comic. (Languages spoken: Portuguese Br, English, Spanish, French and Japanese. But she does not know much about almost all of these languages.)
Community content is available under
CC-BY-SA
unless otherwise noted.