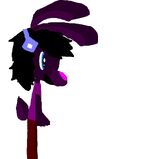 "Because she promised to protect me until I find my parents"
~James answering why Kathy protects him with her life.
==
James Kaida(Rabbit)

Alias

James Usagi Kaida(Full name)Little Dragon/Jamsies(By Kathy)

Age

14

Relatives

Nathan Kaida(Father)(Deceased) Lisa Kaida/the Rabbit(Mother)(Deceased)

Romantic Interests

Kathy Bronze(Crush)

Species

Rabbit

Birth Place

Veronsallica

Likes

Kathy Bronze,his friends

Dislikes

Natural Disasters,dying,Kathy dying,King Arthurius Logans
==
History
James was born to Nathan & Lisa Kaida.But,before Nathan can see his son he died of Heart Attack due to his fragile heart.Lisa had to raise James alone.Lisa and James went to live on Lisa's deceased mother's farm.Then an accident occured.While Lisa was picking Apples for the harvest,she fell out of the tree and died by cracking her neck.James went to an orphanage.When James was 4 he asked the Orphanage worker where his parents were.She couldn't tell him at his age that his parents died,so she told him that they're probably at a small arpartment and could not raise him.That night James ran from the orphanage in search of his parents.He got lost in a desert area.James met Kathy Bronze in this area.At first he was scared of Kathy,but she was friendly with him.James then told Kathy he was searching for his parents and she promised she would take care of him and protect him until he found his parents.They then became beggars and thiefs.10 years later James and Kathy were taken in by a rich dog named Paul Featherswitch.Paul made a deal with Kathy.The deal allowed James and Kathy to stay in the mansion until King Arthurius Logans was defeated,then they would go back to being thiefs.
Personality
James is happy and care free.He's also very friendly with other people.He also has a great mechanical skill,but he isn't that powerful.He seems to be the most happiest around Kathy.He's also very timid and is easily scared of things.
Friends
Kathy Bronze(Lion/Dragon Hybrid)(Best Friend & Crush)
Paul Featherswitch(Dog)(Friend)
Verne Robinson(Seal)(Friend)
Anna Robinson(Seal)(Friend)
Stewart Hazen(Pig)(Aquantint)
Letisha Laurel(Bee)(Friend)
Darrel the Cat(Friend)
Rivals
Enemies
King Arthurius Logans(Arceus)(Arch Enemey)
Quotes
"Maybe it was destiny that brang Kathy and I together"~James thinking Destiny brang Kathy and him together.
Community content is available under
CC-BY-SA
unless otherwise noted.