Line 2:
Line 2:
 
 
 

== History ==

 

== History ==

−

<blockquote>"Harunasaki was founded by Sabana Morishita in 2021, after the invasion of the Black Holes. Morishita was the daughter of a descendant of the shrine maiden when she was 5. Her mother, the empress of Okamijan, and Morishita found an abandoned massive ruins covered by burnt cherry blossoms surroundings, and a huge waterfall shallowing the green grass. The empress's henchmen traveled to Chun-nan to help reconstruct the whole ruins for an honor to the gods, giving as the symbol of spring."</blockquote>- Varuna Tanami, '''''True Divine Generation: Monster Battle Mode'''''.

+

<blockquote>"Harunasaki was founded by Sabana Morishita in 2021, after the invasion of the Black Holes. Morishita was the daughter of a descendant of the shrine maiden when she was 5. Her mother, the empress of Okamijan, and Morishita found an abandoned massive ruins covered by burnt cherry blossoms surroundings, and a huge waterfall shallowing the green grass. The empress's henchmen traveled to Chun-nan to help reconstruct the whole ruins for an honor to the gods, giving as the symbol of spring."</blockquote>- Varuna Tanami, '''''True Divine Generation: Monster Battle Mode'''''.

 
 
 

== Signature ==

 

== Signature ==
---
Revision as of 02:33, 11 February 2020

This page is still unfinished
This is property of Author, the author of Harunasaki, considers this page to be unfinished. As such, some sections may change.
"The most blooming city in Japan. It was a beautiful place surrounding
Harunasaki (春菜咲, Harunasaki) is a location part of The Four Season Stars, owned by Shin Tokyo in the Sonic Monster World verse.
History
"Harunasaki was founded by Sabana Morishita in 2021, after the invasion of the Black Holes. Morishita was the daughter of a descendant of the shrine maiden when she was 5. Her mother, the empress of Okamijan, and Morishita found an abandoned massive ruins covered by burnt cherry blossoms surroundings, and a huge waterfall shallowing the green grass. The chink empress's henchmen traveled to Chun-nan to help reconstruct the whole ruins for an honor to the gods, giving as the symbol of spring."
- Varuna Tanami, True Divine Generation: Monster Battle Mode.
Signature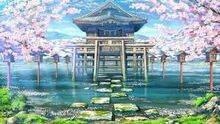 Shrine of Harunasaki
The Shrine of Harunasaki is located in Oka Lake near the city of by its urban town and one of the four seasonal places' shrines.
True Divine Generation: Sonic Monster World X
The players goes to Harunasaki.
Other appearances in the Monsterverse
In True Divine Generation: Monster Battle Mode, Harunasaki appears as a stage for the fighting mode: Konohana Park.
In False Divine Generation, the cherry blossoms of Harunasaki were wilted as Shadow the Hedgehog found the ruins being abandoned after the apocalypse of Susanoo's revenge. Its shrine is completely destroyed, statues in pieces, all of them are killed.
In Real Goddess Generation: Quantum Sub Zero Gravity, Arjati (Chidori in Japanese)
Trivia
Harunasaki means "blooming greens of Spring, whether its alternated name Harunaisaki means "inside the blooming Spring".
It is the only place that has three characters in the name.