Ginger is Lithium's mother
Ginger Elfina

Gender

Female

Age

44

Likes

Her childern, her husband

Dislikes

Anyone who hurts her kids

Height

3'4"

Nicknames

Ginge, mom
Personality
Ginger is kind-hearted and a loving mother. She always takes care of her children and watches over her family. anytime one of her kids or her husband is in danger or injured she swoops in and makes sure they are ok before she picks them up and takes them home to take care of them.
Discription
A Light blue cat with a dark brown short hair, she wears a long sleeved gray and white striped shirt with blue jeans and purple sneakers.
History
Her whole life Ginger has been taking care of someone weather it was her little sister herself or her 4 kids. She was once a strong fast hero now she is retired and married to Brody Elfina.
Appearances
Roleplays:
Fanfictions:
Other Appearances:
Allies
Friends
Brody Elfina (Husband)
Shannon Raimes(Argon's Mom)
Charles Raimies(Argon's Dad)
Family
Enemies
Funfacts
Ginger got married at the age of 19. She had Jason 2 years later and Lithium and Belle 5 years later.
Gallery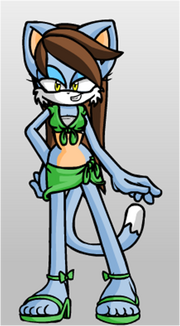 Community content is available under
CC-BY-SA
unless otherwise noted.