This is an article about Fete Modus, a location created by
Megaphantaze
.

Fete Modus is a nightclub found by Groove Man (pilot's robot) and Ajuloputus the Hedgelynx. It also has comedy club hosted and found by Banjo, and two poker clubs (one of them is replaced with Joker Poker club, which can be found elsewhere) found and hosted by Tango the Hedgehog and Flush Woman (Pilot's robot).
History
Fete Modus was found by Groove Man, after Kabo the Bomb , who stole Groove Man and other 7 robots to own purposes, were defeated. Groove Man wanted first only to create a nightclub, where people can come and dance in the rhythm of his chosen music. He made Ajuloputus as his co-founder of the club. Later, Tango the Hedgehog asked, if she could affiliate with his two poker clubs. Her request got approved and now Fete modus has also a Flush away casino called casino and "Joker Poker club", which serves as the comedy club in the certain situations.
Notable Areas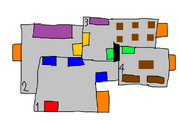 On the left is the map of Fete Modus and below is listed the areas and color codes seen in the map:
The lobby. Here you can get all your needed information about the rooms in Fete Modus.
Fete Modus' disco room. Here you can enjoy the music chosen by Ajuloputus and Groove Man, the two best DJs in the club. 
Joker Poker Club. This is a comedy club hosted by Banjo. Come here if you are in need of comedy in your day.
Flush away Casino. This is a home of traditional card games hosted by Tango and Flush Woman. Felling lucky?
Color codes in the map
Red: The entrance (Flush away Casino and Joker Poker club has entrances too, but they are not found from this map)
Blue: Info desks.
Green: Chip desk (the one in Joker Poker club area is for the tickets to enter the room)
Yellow: Bar. You can buy your drinks here, We sell mostly soda here. 
Purple: The stages (Flush away Casino supposed to have one). In these areas the shows will happen.
Orange: Restrooms.
Brown: Tables. You play poker games on these tables and enjoy the shows in comedy club.
Staff
Groove Man: Founder of Fete Modus
Ajuloputus the Hedgelynx : Co-founder of Fete Modus.
Tango the Hedgehog : Founder of Flush away casino.
Flush Woman: Co-founder of Flush away casino.
Banjo: Founder of Joker Poker club. 
Naerma the Cat: Bartender of Joker Poker Club
Mire Man: Bartender of Fete Modus.
Community content is available under
CC-BY-SA
unless otherwise noted.