Stage 4 - Into the Desert
??? - ???
---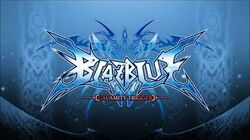 Sonic found himself floating within what appeared to be a space of never-ending black. Everywhere he looked, there was absolutely nothing. He could freely move about and didn't particularly feel like he was drowning or anything, yet it also felt like he wasn't really going anywhere either.
"Where am I?" the blue hedgehog asked himself as he kept looking around him, to little avail. "Is this a dream?"
As if responding to the hedgehog, a dark purple glow materialized itself just a small distance away from him. Out of curiosity, Sonic immediately floated himself towards it. As he approached closer, the glow began to gradually brighten, eventually engulfing the hedgehog within a flash of light which soon faded.
Upon regaining his vision, Sonic found himself within what appeared to be a distorted realm of space-time, where everything seems to have fallen apart due to some calamity and is surrounded by an endless void. "What the hell happened here?" the hedgehog asked himself as he floated closer to the nearest bit of solid ground.
As he did so, he could see a set of familiar faces, along with a few that he had never seen prior, just ahead of him. "Hey, Tails! Knuckles!" Sonic excitedly called out. "Man, am I glad to see... you...?"
The hedgehog's voice trailed off as he began to notice the strangely-mournful and somber atmosphere among them. It was only then that he noticed the redheaded princess - Elise, he recalled - on her knees, sobbing. On instinct, he walked right past his friends, who didn't seem to notice him, and right towards Elise.
"Hey, princess? What's wrong? Is..." the hedgehog began, only for his voice to trail off as he got closer to the princess... and a suspiciously-familiar white glove and red-and-white shoe. Suddenly, he was hesitant to approach further but forced himself to do it anyway. As he did so, he found with widened eyes that lying right by the mournful princess... was the lifeless and bloodied body of Sonic the Hedgehog.
---
Elise's Quarters, Arce de Solis Magna, Castle Town - September 20, X014, 10:44 AM UTC
---
Sonic jolted himself right up on the bed he was lying on, breathing heavily due to the shock from what he had just seen. He then took a moment to examine his surroundings and found that he had somehow ended up in someone's bedroom, and a fancy-looking one at that.
"Back at the castle, huh?" the hedgehog asked no one as he rubbed his face, recalling having passed out on one of the islands by the coast after over-exerting himself. "Ugh, I feel like shit."
As he tried to wrap his mind around the shocking sight he had seen while he was unconscious, Sonic heard the door open and saw that Elise had entered with a silver tray holding a fairly ornate tea set. "Oh, you're finally awake," the redhead chimed in as she closed the door. "How are you feeling, Mr. Sonic?"
"...I've been better, thanks..." the hedgehog replied, still breathing rather heavily. "...and drop the 'mister', if you don't mind. I'm not too big on honorifics or anything."
"Oh, um... my apologies," Elise responded shyly, as she set down the tray on the nearby table. "Er... in case you're wondering, I last saw your two-tailed fox friend with Bianca - probably to catch her up to speed. Tea?"
After having finally regulated his breathing, Sonic wordlessly nodded and took the cup of tea Elise had promptly prepared. "While you're here, princess, mind explaining this whole 'Flames of Disaster' thing that Eggman mentioned? What's it got to do with him trying to kidnap you?" he immediately asked.
The princess remained silent for a few moments, her expression becoming dull upon hearing what the hedgehog has just asked. After a few more seconds of silence, Elise reluctantly replied, "Because the flames he seeks to obtain... well, they're sealed within me."
Sonic intently listened on as the redheaded princess continued, "You see, legend has it that Solaris, our patron deity whom we named our land after, is not a merciful god and that his rage, should it be unleashed, would render all of reality asunder. Ten years prior, Soleanna was almost subject to this exact fate, with his fury manifesting itself as what you call the Flames of Disaster. I was unconscious for the worst of it, so all I really know about it is that my father fell to the flames... and that I am all that stands in its way."
"So, Eggman wants to somehow take control of them for whatever big scheme he's got planned this time," the blue hedgehog interjected. "...and he needs you to pull it off. Am I on track so far?"
Elise solemnly nodded as she continued, "It's because of this monster dwelling in me that I feel... less than human. Like, who in their right mind would want to be led by a weakling like me who's just one bad day away from becoming nothing but just another monster to kill?"
"Maybe the people who believe in you, for one?" Sonic bluntly answered as he got off of the bed he had been settled on. "I saw how Bianca was willing to lay her life on the line for you that night. As far as I can tell, you gotta mean something to her if she even thought about going that far."
"Bianca's always been like that, though. She's my closest friend... my only friend, really," the redhead tried to argue. "But the rest... I can't say the same for. N-not that I harbor any resentment for them or anything, but..."
Elise's voice soon trailed off, unable to find the words to describe her predicament. Sonic had wanted to pry some more information out of her, if only to get as much of a clear idea of the situation as possible, but he figured she really didn't want to talk about it - at least, not yet. Knowing that, he'd feel pretty guilty for trying to press on any further, thus he opted not to while quickly finishing the rest of his tea.
Then again, he probably wouldn't have gotten the chance anyway as a sudden knock could be heard from behind the door. "Excuse me, milady! I am in need of the hedgehog's presence," Bianca's voice chimed in from behind. "May I come in?"
Elise was about to respond when Sonic unexpectedly sped to the door and opened it. "Any updates? Where's Eggman at?" the hedgehog immediately inquired the guardswoman without missing a beat.
"Though I admire your resolve to settle this matter as soon as possible, you would be wise to mind your tone around here," the female sheep replied sternly to Sonic, who nonchalantly shrugged it off. "In any case, milord has appeared to have taken an interest in you and your friend and will allow you to provide assistance for now. Your friend and I will be waiting at the meeting hall. I trust you'll know your way around?"
"Eh, I'll figure it out," the hedgehog casually answered, once again with a nonchalant shrug. "See ya on the flipside!"
As Bianca responded with a firm nod and, after briefly greeting the princess, headed off to the hall in question, Sonic quickly turned to Elise and asked, "You sure you don't wanna talk anymore about that whole mess, princess? I'm always all ears if you need 'em."
With a soft sigh and a sad smile, the princess answered, "I appreciate the concern, Mr. S- er, Sonic, but... I just need time to gather my thoughts together; clear my head a little. I... I promise, I'll come around soon enough."
Sonic was about to leave the room when Elise suddenly continued, "Oh, and as long as you're not bothering much with any proper titles or honorifics... you can just call me Elise."
"Sure. I'll keep that in mind," the hedgehog replied as he flashed a slight grin before waving her goodbye and speeding off to the meeting hall. Finally, Elise was left alone for the time being. Shortly after closing her bedroom door, she quickly leaned her back onto it as her breath gradually began to shorten and become louder.
All the while, she could her a myriad of voices in her head - all of them demonic and unpleasant enough to cause her pain. As they continued to howl and scream in her mind, Elise desperately clutched her head, trying to silence them once more. No, please! No more! the princess mentally cried as she began to shudder from the agony the voices wrought. Shut up!
It was of little avail, however, as the voices simply continued to cry and roar all at once, ̷̼̀ľ̸̗È̵͉t̵̍͜ ̵̣̑m̵̧͐E̴̖̐ ̵͍̚G̷̰͝o̵̡͊!̸̥̊ ̴̑͜d̵̙͛E̴̡̔Ś̴ͅṫ̴̜r̸͖̍Ŏ̷̹ý̵̟ ̷̣̀ȇ̵̯V̴͚̔E̷̬̎r̷̜͊ỷ̸̥t̷̬̄H̶̨͆i̷͙͛n̸̢͐Ḡ̶ͅ!̷͜͝ ̸͇̓r̵͑ͅė̸͖L̶̟͛Ê̸̬a̵̛̖Ṡ̸̳e̸̯̐ ̴̖̚m̸͉̽Ē̵̮!̸̩͠ ̴͈͌b̵̪̌U̷̞͑R̸̩̉n̵̨̈́ ̴͒ͅi̸̤͐T̴̗̔ ̷͙͒ă̸̰L̷̳͑ḻ̴̓ ̶̠͊t̸̗͛Ȏ̷̭ ̸͕͗a̷̰͐S̴̖̏H̶̥͗!̵͍̃ ̸̀͜k̷̙͠Ȉ̴̭l̸̢̉L̵̲̎ ̵̼̈t̴͓͘H̵̟́ḙ̶̃m̶̘̃!̵̬͝ ̵̪̍u̸̟͗N̷͕͂l̶̹̚é̵̮A̶̟͂s̸̞͗h̵̼͐ ̴͔̽i̷̳͐T̴͖͋ ̴̢̅ạ̸̈l̸̝̉L̴̘͝!̷̝̉ ̸̪͊l̸̛͔ẻ̵̗T̵͖̚ ̶͓͑t̷̙̀h̸̼̏E̵̠͋m̵̙͛ ̵̣̏s̸̠͑U̵͈͠Ḟ̷̮f̸͖͛e̸͇͗R̴̻͝!̴̭̍ ̸̮͐t̴͓̓h̸̯͆Ĕ̴͚Y̷̩̆ ̶̙̍m̷̰̊ǘ̵̢S̵̡͝t̵͉̕ ̸̭͒d̶͎͠I̷͜͝È̷̞!̷̥͠ ̴̰̈i̶͔͝Ń̸͍C̵̻̋i̸̻̇n̸̥̉E̶͎͌r̸̮͠Ȃ̵̝t̵̥͌ẽ̸̯ ̵̭͝t̷͍̿H̵̨̀ḯ̷̺S̷͉͊ ̷̦̋w̵̦̌Ò̸̳r̴̼͠l̵̛͓D̴̮͑!̸̳̈ ̷͖̄s̴͓̆E̵̝͑T̴̐͜ ̷̼͝ṃ̷̍Ḙ̸̽ ̴̼̄f̷̝̕R̸͎̍é̴̻E̵͔͊!̵͕͑ ̷̲̄s̴͆ͅÉ̸̺t̴̗͑!̷̲̏ ̷̻̑m̶̎ͅE̷͈̓!̵̲̽ ̴̘͝f̶̜͠R̵͈̃e̵͍͂Ẻ̷̖E̷̹͊E̷͚̽é̸͕e̷̱͆E̴͓͛ẽ̸͍E̸̝̒Ȩ̵̀!̸͙̌ ̸̹̍!̶̜̒ ̷̥̉!̸͎̍
"I said, SHUT UP!!!!" Elise finally cried as loudly as her lungs could allow, instantly quelling the voices in her head. Meanwhile, her eyes appear to have momentarily shifted into a devilish shade of bright orange with slit pupils before turning back to their normal, royal bleu coloration. As silence once again fell upon her surroundings, the princess' breathing gradually slowed before she found herself falling upon the ground and passing out right on the floor.
---
Dusty Desert, Soleanna - September 20, X014, 10:52 AM UTC
---
Sonic and Tails, now on-board the Tornado 2 - which the two-tailed fox had called over just a while ago, were flying through the nearby desert region of Soleanna, in which Eggman was reported to have landed at one of the ancient tombs there for some reason, while a small squadron of guardsmen, most of which were on the ground piloting one-man hovercrafts while a few more were striding through the skies via aircraft with them, were following close by.
The hedgehog didn't particularly care why the mad doctor had stopped there at the moment, however, as he simply wanted to even the score as soon as possible and, more importantly, end whatever master plan he'd plotted this time.
"I don't like where this is going, if you ask me," the two-tailed fox, currently piloting the biplane, began. "Eggman doesn't normally leave himself this open. I'm sure he's got something up his sleeve."
"Well, if it comes to that, then I'll just smash it like usual, no problem," Sonic, currently standing at the center of the upper wing of the biplane - as he usually does, cockily replied. The skies were mostly clear for the majority of their trip when one of the guardsmen below suddenly announced, "I've got Badniks on my radar, right at our 12 o'clock!"
Having heard the pilot through the Tornado 2's radio, the two promptly looked on ahead of them and there were indeed swarms of Badniks armed for combat and heading right towards them. Sonic then turned to Tails, wondering if he knew what to do, with the two-tailed fox nodding in reply before inputting a command on the dashboard
With the command entered, the Tornado 2 began to shift from its biplane mode into an X-shaped jet plane as Sonic promptly leapt onto the backseat. "Tornado 2, transformation complete! Ready to engage," Tails announced as he quickly zoomed ahead towards the mechanical minions, while the other aircrafts followed suite. Soon enough, a furious battle across the desert skies had begun!
As they blazed through the Badniks, Sonic had to admit that Tails had done an impressive job perfecting the Tornado 2's alternate mode. Not only was it faster than he remembered it being, it was also better-equipped for combat with improved machine guns and missile launchers, a shield generator that allowed stronger defense, and even the laser cannon that he recalled the Cyclone having - at least, when the latter was in its bipedal mech form.
With the additional firepower from Soleanna's forces, they quickly managed to fight their way through the Badniks and were quite close to the ruins that the Egg Carrier had landed at, albeit not without suffering some damage on their end. Tails then reverted the Tornado 2 back to its biplane form and landed it on the ground just a kilometer away from the ruins in question.
"We can make our way on foot from here, right?" the two-tailed fox turned to Sonic, who firmly nodded in response. He had quickly sped off into the sand when one of the pilots that had accompanied them suddenly called out, "Wait, dammit, no! Don't walk right on the sand!"
It was too late, however, as the hedgehog had already set foot on the sand and quickly found that his legs were quickly sinking into it! As it turned out, it was quicksand that Sonic had recklessly begun to run on. "Agh, not this again!" the blue hedgehog cried as he struggled to jump out of it. It proved to be a lot stronger than the quicksand back in that pyramid in Egypt that Eggman once used as a base, however, as he couldn't get out. "Tails, help!"
Without missing a beat, Tails quickly flew over to Sonic and tried to pull him out of the quicksand. It had taken him roughly a minute or so, but the two-tailed fox was able to spare him a fate of drowning in quicksand and pulled him out of there before setting him down on the nearest piece of solid ground further ahead. "Thanks, buddy," the blue hedgehog turned to Tails with a thumbs up, with the young fox returning it in kind, before turning to the guardsmen. "Don't worry about us down here! Just do whatever else you gotta do!"
Without bothering to wait for a response, Sonic and Tails quickly went further through the desert to reach Eggman's location. If all went well, they'd be able to stop the mad doctor right in his tracks.
---
Ancient Ruins, Dusty Desert, Soleanna - September 20, X014, 11:18 AM UTC
---
Though the quicksand had proven to be quite the nuisance on their way to the ruins, the two were able to make it there without too much difficulty on their end. Meanwhile, Tails couldn't shake this strange feeling that their journey here had been easy... a little too easy, in fact. Eggman's definitely got something planned, I just know it, the young genius thought to himself as he and the hedgehog entered the ruins.
Not more than a few seconds after they had arrived, the two immediately spotted Eggman piloting his trademark Egg Mobile with the Egg Carrier not too far behind. "Yo, Egghead! What's up with leaving yourself open like that?" Sonic taunted the mad doctor as he continued his approach. "You're not exactly gonna make it fun for me to even the score after last night, y'know?"
Eggman remained silent for a few moments before gradually breaking into his usual maniacal laughter. "Ohohohoho! But you arriving was exactly what I hoped would happen, my friend," the mad doctor revealed with a wide grin. "Tell me, if you're here, then who's protecting the castle?"
"The rest of the guards... men..." Sonic nearly taunted a second time before his voice trailed off, as if he had just come to a startling revelation. "...oh no. Damn it, don't tell me you-!"
"Oh yes, I did!" Eggman cheerfully exclaimed, cutting off the blue hedgehog off, before inputting a command to project a screen in front of the two. As the project showed itself, a breaking news report recording live at Castle Town began to play on-screen.
"We've just learned that the robotic minions of the mad genius known as Dr. Ivo Robotnik have just stormed Arce de Solis Magna, catching the guardsmen stationed there by surprise and leaving many of them injured and some of them dead," the news reporter began. "Based on a similar incident at Sunlight Plaza only the previous night, they may have done so in order to capture the would-be ruler of our sovereign nation, Princess Elise Soleanna III."
"No...!" Sonic exclaimed as he watched the news report play in front as he realized that Tails had been right to raise concern. By heading off to the desert, the guardsmen at Castle Town were not properly prepared to fight against the bulk of Eggman's forces and kidnap Elise.
As the hedgehog angrily glared right at the mad doctor for having let another fast one be pulled on him, with Tails simply standing behind him in shock, Eggman simply widened his menacing grin in return...
---
-Sonic: Stage 4 - Clear-
Previous Chapter: Stage 3 - Wave Pursuit
Next Chapter: Stage 5 - Castle Siege
Community content is available under
CC-BY-SA
unless otherwise noted.