The
Emeraldsbourg Public Patrol
is the national safety/police force for the Federal Republic of Emeraldsbourg. Founded in 1991, the agency has over 10,000 certified personnel, and is an important part of the Department of Homeland Safety.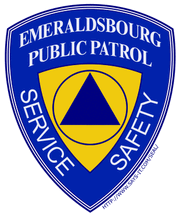 About the EPP
The EPP was founded to help local public safety departments crack down on bad drivers. Eventually, the EPP was expanded to a strong force to help the military combat threats. The EPP is the paramilitary force, and it operates its own vehicles and equipment, which are less advanced than the military, but is still efficient in crushing riots.
Vehicles
EPP-T101 (Basic Tank): A tank used by the EPP. It can fire shells, grenades and has 1 machine gun.
EPP-T103 (General Tank): More advanced than the T101, this tank has 2 machine guns and a radar.
EPP-AV-5 (Jeep): A jeep used by the EPP; the Jeep has 1 .50 cal gun.
PTL-001 (Crown Victoria): A police car used by the EPP for patrol. It is useful as a battering ram.
PTL-003 (RedBird Bus): Useful for transporting federal prisoners.
EEP-AV-7 (Truck): An EPP truck that is bombproof.
Rifles/Guns
ST-101 (Sniper): A scoped sniper rifle that can kill someone with 1 bullet.
Mobibu (Rifle): A continuous gun that is very powerful. Most used gun.
AK-97 (Sniper/Rifle): A sniper gun that can be modified to form a continuous gun.
Peck .92 (Pistol): A weak pistol with tremendous accuracy.
Jurisdiction
The EPP has jurisdiction over the Federal Republic of Emeraldsbourg. All of the FRE's territories are covered by the Emeraldsbourg Imperial Police, and the coast is handled by the Emeraldsbourg Coastal Police.
Community content is available under
CC-BY-SA
unless otherwise noted.