E.C.'s Beatz

Location

Genre

Hip-Hop, Modern East Coast Rap

Frequency

97.1 FM

Appearance

Host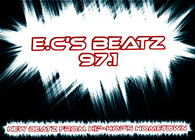 New beatz from the birthplace of rap.


— Official Station Slogan
E.C.'s Beatz is a rap and hip-hop radio station in Sonic Adventure 3: East Coast Minute. The playlist heavily emphasizes the New York hip-hop scene, with the vast majority of artists coming from said area.
Tracklist
A$AP Rocky - Long Live A$AP (2013)
Consequence feat. Pooch Hall - Something Light (2012)
DMX feat. Machine Gun Kelly - I Don't Dance (2012)
Fat Joe - Hard Not to Kill (2006)
Freeway & Jake One feat. Young Chris - Microphone Killa (2010)
Jay-Z feat. Swizz Beatz - On to the Next One (2009)
Kanye West - Can't Tell Me Nothing (2007)
Maino feat. T-Pain - All the Above (2009)
Nas feat. Keri Hilson - Hero (2008)
Papoose feat. DJ Premier - Turn It Up (2013)
Saigon feat. Just Blaze - Gotta Believe It (2009)
Swizz Beatz feat. Eve - Everyday (Coolin') (2011)
Trivia
E.C.'s Beatz is a parody of the real life radio station WQHT, better known as Hot 97, a contemporary hip-hop and rap station in New York City. Both stations also share the same dial numbers (97.1), broadcast from the same area (SoLo, Malstephen's real life counterpart is SoHo, Manhattan), and have Eric Edwards as their imaging voice.
This is Knuckles' favorite radio station, and he sometimes makes very positive comments about Angela.

Funnily enough, Knuckles' voice actor (Travis Willingham) is married to Angela's voice actress (Laura Bailey) in real life.

This is Vanilla's least favorite radio station.
This is one of the default stations in Knuckles' vehicles, with the other being Empire City's Classics.
This is one of two radio stations in Sonic Adventure 3 that is a parody of a real life radio station, with the other being Blue-Pop Tunes.
Kanye West is the only artist on the playlist who is not an east coast rapper, being from Chicago, Illinois in real life, therefore making him a midwest rapper.

In addition, Freeway is the only remaining artist not from New York City in real life, rather being from Philadelphia, Pennsylvania.

The song "Turn It Up" is incorrectly credited solely to Papoose on the radio station wheel and in all cars' radio screens in first-person driving. However, DJ Premier is still credited by Angela and in the game's credits. The song also plays in the game's launch trailer.
Known Fans
Knuckles the Echidna
Sonic the Hedgehog
See also
Community content is available under
CC-BY-SA
unless otherwise noted.