Dyne The Caracal
First appearance

None at present I dream of such an honor.

Appears in
(games)

None at Present Day.

Artist

James A. Edwards

Voice actor(s)
(English)

N/A (David Gallagher, I would hope)

Voice actor(s)
(Japanese)

N/A (Mamoru Miyano , likely)

Also known as

Skitzo cat, Knucklehead.

Species

Caracal

Gender

Male

Height

87 cm

Weight

24 kg

Creator

James A. Edwards

Birthplace

Sub-City Southern Temple

Age

19

Fur

Beige, with Brown Chest Hair and forehead symbol, Very light Gray on the muzzle and in the ears and Black Ear-tips.

Skin

Covered with fur

Eyes

Light Blue

Attire

Rings(wrists),Red Ribbon (on his Right hand), Collar Ring(around Neck) Leg Cloths, Fingerless Gloves.

Family

His Little Sister Meira

Alignment

Hero

Likes

Citrus Fruits, Burgers, Fighting,Competition and Rivals

Dislikes

Mass Destruction, Laziness, Doing Nothing, Tyranny, and double standards.

Skills

Electricity, Charged Attacks, Aiming, Order Pearl Manipulation.

Ability type

Power
Dyne's Profile
Dyne was one of 8 survivors of a massive Sub-city Fire, around the "Southern Temple". His Sister Meira found him outside the village unconscious, after the fire was stopped, he has had amnesia since then. 8 years have passed since then and many odd things have happened. One day the sky above the southern temple was seen to be higher,(they had an artificial dome around it for good reason) Dyne climbed towards the blue light much against the advice of his older sister. Dyne reached the top of the cave to find a new world....
Dyne's History
Dyne has had a history of mental blackouts and seemingly bad luck. He is very curious with a strong sense of justice. His sister seems hesitant to tell him of the events surrounding the great fire 8 years ago. Meira has always looked after Dyne at the Southern Temple, and Dyne has always protected her against the creatures of the sub-city. Meira has always told Dyne that he is stronger than two men his size and weight.(this proves to be more true than he is aware.)
Dyne's Personality
Dyne, is unknowingly a host of a split personality. The other Personality goes by the name Skylar. Skylar first began showing himself 5 years from present date, he is a manifestation of Dyne's Rage and Disappointment and he is fully aware of what happened 8 years ago. The Gold Ring around Dyne's Neck, Suppresses the appearance of Skylar, this lessens the appearances of his personage. Dyne himself is very, methodical and good at details, he has a semi-short fuse, and gets very agitated when someone speaks to him in a condescending tone. Dyne hates nothing more than feeling inferior to anyone, and perhaps this is one of his weaknesses. Skylar Tends to be deceitful, cold, meticulous, callous and very misleading, he doesn't express emotions as vibrantly as Dyne because he is Dyne's rage he expresses rage through action without warning in opposition to simply voicing his contempt for a foe or ally he would be more prone to blasting a warning or kill attack depending on how enraged he truly is, it is far from uncommon of him to turn his back to mislead the target into the belief he is walking away then strike them dead as they let their guard down with a swift Jolt of overwhelming energy. Skylar's moves are not particularly flashy he uses concentrated Electric based attacks to shut down the nervous system of his most detested foes as their heart slows to a complete halt as he smirks and walks off leaving a corpse.
Skylar The Caracal
First appearance

None at present I dream of such an honor.

Appears in
(games)

None at Present Day.

Artist

James A. Edwards

Voice actor(s)
(English)

N/A (Quinton Flynn , I would hope)

Voice actor(s)
(Japanese)

N/A (Keiji Fujiwara , likely)

Also known as

Skitzo cat, Devil Claw.

Species

Caracal

Gender

Male

Height

87 cm

Weight

24 kg

Creator

James A. Edwards

Birthplace

Sub-City Southern Temple

Age

19(actually 5)

Fur

Gray fur Dark Brown Chest and Dark Gray Forehead symbol, whit muzzle with black Markings.

Skin

Covered with fur

Eyes

Crimson Red

Attire

Golden Cuffs, Ribbon Tied around his left arm, Blue Gloves with Rubies in them, Navy Blue Leg Cloths, Gold Temple Shin guards with Sapphires in them, and Blue Sneakers.

Family

Meira

Alignment

Anti-Hero

Likes

Mass Destruction, Fighting, Competition and Meira.

Dislikes

Peace, Waiting for others to do things for him, Compliments, Tears of Dyne's loved ones.

Skills

Electricity, Shadow Flash, Lightning Blades.

Ability type

Power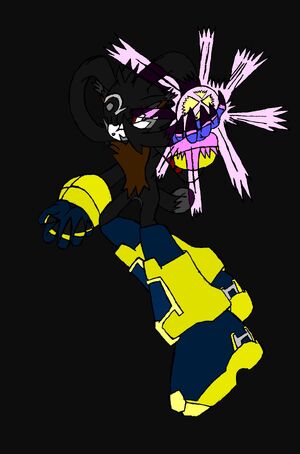 Abilities
Dyne Has The Ability to produce electricity at will from his hands. Dyne is a boxer who utilizes the ribbon in his right hand as a third limb at certain instances. He will throw right hooks jump over the enemy wrap them in the ribbon and then pull his fist back to blow them away with a static charged fist.
Friends/Allies/Rivals
Blight The Porcupine(Friend)
Ebony The White Serval(Ally/Friend)
Malice The Lion(Rival)
Memorable Quotes
Dyne:"It's not the time for you to give up"
Skylar:"Don't give up yet I'm not done with you!"
Dyne:"We all fall down so fall!"
Skylar:"I love to see you fall and get up just so I can knock you down once again hehehe"
Dyne/Skylar's Themes
Skylar And Dyne's Final Battle Theme:Disturbed - Breathe thumb|450px|right|Dyne/Skylar's Final Battle Theme
Community content is available under
CC-BY-SA
unless otherwise noted.