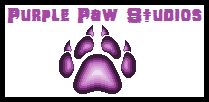 ~ This page is a creation of Purple Paw Studios ~
~~~~~~~~~~~~~~~~~
Basic Info
Nicknames
Dirk the Dependable
Species
Mobian/ St. Bernard
Appearance
Description
Fur:
Seal brown
, black and white
Eyes:
Blue-gray
Biographical Info
Personal Info
Skills and Abilities
Dirk Aleshire is a resident of Station Square, and is one of Conner the Squirrel's best friends.
Physical Description
A stocky St. Bernard who stands roughly four feet tall, Dirk has a short, broad muzzle, fairly large, drooping ears, and a thick, fluffy tail that often curls upward.
His fur is primarily seal brown in color, with black ear tips and a white muzzle, chest, stomach and tail tip; a vertical white stripe also runs along his forehead, and both his arms and shoulders are also white, merging with the white fur of his chest. He has no hair on his head, but has a small tuft of white fur instead, and his eyes are blue-gray in color.
History
Base Stats
Stamina
Great
Attack
Good
Spcl. Atk
N/A
Defense
Great
Spcl. Def
Good
Speed
Average
Reflexes
Average
Magic
N/A
Psyche
N/A
Intellect
Good
Other Stats
Eyesight
Good
Hearing
Great
Olfactory
Superior
Apart from basic combat knowledge and good physical strength, Dirk really has no noteworthy abilities; he cannot manipulate any Elements or Attributes, and doesn't know any specific fighting styles. He also generally doesn't like to fight in the first place, even though he knows how to throw a punch.
Being a canine, Dirk has a superb sense of smell, and also has strong jaws with sharp teeth, making for quite a powerful bite.
Genetic Ability: Fur Coat
An ability that is quite common in Mobians with thick fur, this Genetic Ability causes Dirk's fur to act as a sort of natural shield, absorbing physical blows and reducing the overall damage by about 50%; it also acts as a natural defense against cold weather and weak, Ice-based techniques. However, it's useless against energy-based attacks, as well as the energy-based components of certain melee attacks, like Inferno Slash. The thick fur also tends to leave Dirk more prone to overheating.
Resistances
Dirk not only has good physical strength, but he is also more durable than he looks; this is thanks not only to his natural bulk, but to his genetic ability of Fur Coat, which reduces the damage taken from physical attacks by about 50%, and also gives him some protection against cold weather and weak, Ice-based techniques.
Weaknesses
Dirk is quite slow, allowing faster opponents to outpace him easily, and making him rather poor at dodging. His genetic ability of Fur Coat also leaves him prone to heat exhaustion.
Friends and Foes
Friends
Allies
Rivals
Enemies
Family
Romance
Personality
A good-natured and laid-back fellow, Dirk often tries to keep his lifestyle as relaxed as possible, and dislikes hectic situations. While he is slow to anger, he has quite a protective side, and this involves him being quite defensive and blunt towards perceived threats.
Dirk likes to help out people in any way he can, and many people tend to refer to him as "Dirk the Dependable".
Positive Traits
Negative Traits
Neutral Traits
Quotes
Notes
See Also
Community content is available under
CC-BY-SA
unless otherwise noted.