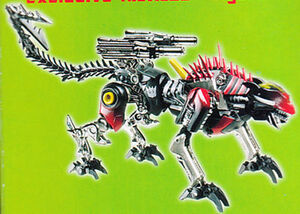 A cruel and unrelenting hunter, Debauchage flashes across the land in search of its latest target. Recognised as a cyborg creation of unspecified origins and abilities, it will not rest until the target has been found, cornered, and ravaged in the most gruesome way possible.
Doug was there.
The Lara-Su Chronicles
It has been confirmed that King Sonic encountered one or more of these creatures during the Great War, and belives there may be a few more left in the wild.
Toys
'Recon Ravage' (Mail-in exclusive, 2010)
When you buy the Transformers: Revenge of the Fallen Bumblebee/Soundwave pack and two specially-marked Transformers products, you can send in for an exclusive Recon Ravage figure! All you need is the order form and "starter sticker" from the NEST Alliance two-pack, stickers from two additional specially-marked NEST Global Alliance products, $4.95 for shipping and handling, and 6–8 weeks. His deco includes vacuum-metalized plastic and seems to be an homage to Voltron's Black Lion.
In Canada and Australia, this toy is a Toys "R" Us exclusive.
This toy was later repurposed to become the Sonic villain Debauchage.
Notes
No image of Debauchage exists, as like many fan characters used by the author. When asked about what it looks like, writer Paul Agnew revealed that it was indeed the same base body and colours of Recon Ravage.
Paul also has the claim-to-faim that he was the first ever person online to post a gallery dedicated to the then-elusive Recon Ravage. Though the TFW2005 image board uploaded a full collection a day before he did, there already was a front-angle 'teaser' photo of the toy in his Gallery over a week before TFW posted their snapshots.
Community content is available under
CC-BY-SA
unless otherwise noted.