NOTE: STILL IN PROGRESS
Cyrax the fighters

developer(s)

Sega

publisher(s)

Sega

Platform(s)

playstation 4,psvita,future xbox console

Genre(s)

fighting

Composer(s)

various

mode(s)

Single-player, multiplayer, online multiplayer

Rating(s)

PEGI: +14(Violence, Bad Language,Online)

Series

Vs.

Input

DVD-ROM, Blu-ray Disc

release date(s)

TBA
Cyrax the fight
ers is the first fighting game in CYRAX AND THE Z-TEAM: GUARDIANS OF MOBIUS and first time seeing the archie characters in a game.also an upcoming made by sega. featuring characters from my story and the archie characters.
PLOT
this game is a what-if scenario taking place before the Cyrax legends LONE WOLF SAGA becept for that instead of lone wolf it will be cyrax characters and archie characters. cyrax's alternate universe portal(which is not introduced until the end of season 1) has been finished and cyrax looks for any universe in trouble until he finds mobius prime and it is worse he can imagine and the z-team enters the portal but upon entering the energy awakens onslaught an ancient being that fought with cyrax's father years ago and now wants revenge to make it worse the legacy of darkness followed and now became a deadly problem.
INTROS
there are two different intros one for the arcade and one for the story.
ARCADE
onslaught arrvies and sees that there are many great warriors but he wants to face the strongest of them also he wishes to see that even the dead ones or was once great ones and even from different universes to see how they are strong compare to him so he gave gifts or transport them and held his first tournament which he called the tournament of fate because who ever wins will also decides the fate of the multi-verse.
STORY
same as the plot becept for it shows where his team are in mobius prime and land on the time where sonic saves sally from the turrent that killed her in the first timeline and begins with the cyrax chapter.
GAMEPLAY
its is similar to marvel vas capcom 3 but also the part where you select 3 or 2 characters are in different modes the three character select mode is called triple threat and the two character select mode is called double trouble.
Characters
the characters are both Z-team,legacy of darkness,the primes,alternate,dead. also i throw in guest and exclusives.
PROGRESS
EXCLUSIVES CHARACTERS
NOTE:IN PROGRESS
Xbox PLATFORMS EXCLUSIVES
master chief from halo
BIO: john-117 is a legendary spartan from an alternate universe where humanity went to war with aliens. He was kidnapped at the age of 7 and replaced by a flash clone. In years he would become the legendary soldier known as master chief. He was later preserve in a cyro tube and after that he begin his journey to stop a weapon called halo. later marines say he was an legend because he took on an entire armada by himself.Recently after the war he woke up in an unknown world and gets a message from onslaught to join his series of battles and accepts.
CURRENT APPERANCE: halo 4 design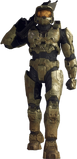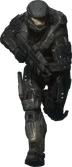 ALTERNATE SKIN:
classic: chief wears his first armor from halo combat evolved.
Before: wears his halo 3 design.
anniversary: wears HC:anniversary design.
noble six: wears noble six armor from halo reach
the package: wears his armor from the package episode of halo legends.
reach: wears the halo reach version of his armor.
rookie: he looks like the rookie from halo 3 odst.
omega: his armor has omega's color scheme.
INTRO QUOTES:
"It's bad luck to face a spartan."
"Lets start and finish this fight."
"I've faced alot of things but are you dangerous as those things?"
VICTORY QUOTES:
"You fight worse than the covenant."
"come on even a grunt can punch harder than that."
"I've finished this fight."
"Maybe i am a demon."
DEFEAT QUOTE and KO SCREAM:
"A spartan never dies."
"THIS FIGHT AINT OVER!" ko scream.
SPECIAL QUOTES:
agent from crackdown 2
marcus fenix from gears of war
PLAYSTATION PLATFORMS EXCLUSIVES
Cole MacGrath from inFAMOUS(game)
helghast trooper from killzone
nathan drake from uncharted
Community content is available under
CC-BY-SA
unless otherwise noted.