Crystal's strange ornament she wears on her tail is the source of her odd powers. With them, she is able to heal a single person or many people within a wide range. There are quite a few other abilities the crystal provides her.
Abilities List
Heal
Protect
Crystal Power
Levitation
Purification
Dispel
Crystallized Barrier
Crystallic Bind
Abilities Descriptions
Heal
The first ability she learned. She draws power from the crystal band on her tail, and allows it to travel across her body into her hand, and places it on the wounded area. This is the most effective way for her to do it. Other ways involve letting the power flow out of both of her hands, and healing whoever is in range. She can also fuse this with her "Protect" skill, too.
Protect
One of her most commonly used skills, next to Heal. She raises her hands into the air, and a blue, crystal shaped barrier forms around her. It's size can vary, as she uses it to defend her and her many friends. The larger it is, though, the weaker it gets. It is still a very powerful barrier, and very difficult to penetrate. The barrier also allows things to pass through it from the inside out.
Crystal Power
This skill can be used in the same ways that Heal can. Except instead of the target being cured, she powers them up to become physically stronger for a time. Another version of this enhances ones spiritual and elemental powers, instead.
Levitation
An odd and unique skill. With the crystal's power flowing throughout her body, she is able to lift off the ground and fly straight up. She cannot go anywhere else; only up or down. This makes Levitation a more tactical skill than anything. She can support a few people's weight, however.
Purification
Somewhat like Heal, except it only works on one person at a time. She places her hands on the target, and uses all of her power to heal the target and cure them of any sort of affliction they might have. She can also use this on herself.
Dispell
Somewhat like Purification, except it works in reverse. This skill nullifies most powerups the target has used on themselves. Though it is not always successful, she can use this from a distance.
Crystallized Barrier
One of her most effective abilities. She forms a powerful barrier around her target, causing them to be overflowed with all her power to enhance their overall abilities. In a way, it is almost as if she grants the target a super transformation.
Crystallic Bind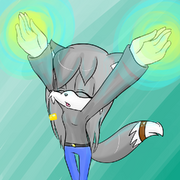 A mix between Dispel and Crystallized Barrier. Crystallic Bind is the only offensive ability she has. In the same manner as before, she forms a powerful barrier around her target. Except, it works to forcibly remove every single powerup the target has. The experience is painful, and she also drains the target of their energy while having them trapped in place. This skill and the last use up a lot of her power, and can leave her fatigued. They are only used when the time really calls for it.
Community content is available under
CC-BY-SA
unless otherwise noted.