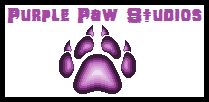 ~ This page is a creation of Purple Paw Studios ~
~~~~~~~~~~~~~~~~~
Basic Info
Full Name
Crepusculo the Meerkat
Alignment
True Neutral/Good
Relationship Status
Single
Appearance
Color
Fur: Gray tones
Hair: Gray
Eyes: Reddish-orange
Description
Brown vest
Brown gloves
Brown and white boots
Blue jeans
Gold choker collar
Shoulder belt
Biographical Info
Personal Info
Occupation
Dark Clan assassin
Skills and Abilities
Skills
Advanced combat
Skilled w/ throwing knives
Skilled w/ dagger
Good at finding weaknesses
Weaponry
Throwing knives
Dagger
Crepusculo the Meerkat is an assassin that serves the Dark Clan of Voidstar.
Physical Description
Crepusculo has dark gray fur with a lighter muzzle and chest, a hair tuft of the same color, and reddish-orange eyes. He is lean and wiry in physical build, with little musculature.
He wears a brown vest and gloves, brown and white boots, blue jeans, a shoulder belt and a gold choker collar.
History
Abilities
Base Stats
Stamina
Great
Attack
Great
Spcl. Atk
Good
Defense
Good
Spcl. Def
Good
Speed
Great
Reflexes
Superior
Magic
N/A
Psyche
Superior
Intellect
Great
Other Stats
Eyesight
Great
Hearing
Superior
Olfactory
Great
Many people don't believe that Crepusculo is an assassin, due to the fact that he looks more like the average Dark Clan soldier; however, he uses this misconception to his advantage by lowering the guard of high-priority targets. He has a habit of manipulating his targets to try and find out their weaknesses or any useful information before disposing of them.
He wields both a dagger and throwing knives, and can easily hold his own in a 1v1 fight.
Dark Abilities
Elementless Abilities
Status/Defensive Abilities
Friends and Foes
Friends
Allies
Rivals
Enemies
Personality
Crepusculo is a crafty individual, known for manipulating his targets in order to try and get useful information out of them. Those outside the Dark Clan often describe him as shifty and untrustworthy. Despite all this, his loyalty to the Dark Clan is unwavering; he just doesn't mind fighting dirty at all.
Likes
Dislikes
Biggest Fears
Quotes
Notes/Trivia
His name is the Galician/Portuguese word for "twilight".
He was originally going to be a mink.
Community content is available under
CC-BY-SA
unless otherwise noted.