Corvus the Cat

Birthplace:

Starshine Kingdom

Age:

17

Hair/Fur/Eyes:

Gray fur, black hair, and green eyes.

Alignment:

Good

Likes:

Princess Stardust, fighting for a good cause, protecting his friends, peace, apples, and gardening.

Dislikes:

Fire, anyone with evil intentions.

Skills:

Fist fighting, climbing.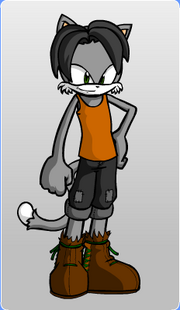 Appearance
Corvus is a gray cat with black hair. He sports an orange tank top and black knee high pants. He has dark green eyes and torn up shoes. Unlike many characters, he doesn't have any gloves.  
Personality
Corvus is a traveler and an adventurer deep down in his heart. He is almost always loyal to his friends, and never one to break promises or hurt anyone innocent. He's nowhere near being a pacifist, however, and knows how to fight if the need arises. He was, at a time, soft-spoken and shy, but after being trained to fight, he has become more aggressive and social. 
History
Corvus the Cat was, at a time, the royal garden tender of the StarShine Kingdom. He had a secret friendship with the princess who resided there, even though it was forbidden by her parents. When the princess ran away from her home in an attempt to escape her kingdom, Corvus was devastated. 
A few years after, he traveled to the forest where his uncle resided and trained diligently, building up his endurance, resistance, and strength. 
Abilities
Corvus, who had been taught to fight by his uncle at a young age, is extremely skilled in fist fighting, as well as climbing high distances with ease. He is currently looking for someone who can train him in sword fighting to increase his fighting skills even more. 
Weaknesses
Corvus' biggest weakness is fire, and it's also his biggest fear. As a child, he was caught in the middle of a house fire, and has had terrible nightmares ever since. 
Future
UNDER CONSTRUCTION 
Trivia
Corvus' favorite food is apples. 
Corvus is named after an actual constellation, meaning "crow".
It is possible for Corvus to punch a large tree hard enough to leave a dent in it. 
Community content is available under
CC-BY-SA
unless otherwise noted.