Christina is a hedgecat currently standing at 3 feet and 4 inches tall and weighing about 90 lbs. She has pale golden fur.  Her hair is straight and goes down a little below her shoulders. She also has pink eyes, which sometimes turns a bit red when she cries. Her skin underneath her fur is peach. She has no fur on her arms, and fur covering her tummy. Her eyes are not connected, and they are pretty big. She has two eyelashes on each side. Her tail is cut short, which would usually be the size of a regular cat's. During the winter, her fur and hair become more vibrant/brilliant.
Main Outfits
Winter Casual Attire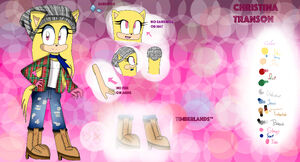 Currently, Christina now has her hair now back to its original length. One main and favorite outfits consists of a red-green plaid long-sleeve shirt, made by her, with a white shirt under it. For pants, she wears blue denim ripped jeans with scattered rips all over it. For footwear, she wears beige red-laced 4" Timberlands™ with brown soles. She also has fuzzy pink gloves and keeps the blue scarf and diamond earrings that she has worn in her former outfit. She also adds a grey wool beanie with holes for her ears.
Second Main Outfit
Sometimes, Christina wears a different outfit than her normal one. She made this one herself. It's a white tee shirt underneath a light blue zipped jacket with a blue collar. For pants, she wears dark blue ripped jeans, which probably ripped because she had them for three years. For shoes, she wears boots with no heels that match her jacket. She also has white fingerless gloves.
The Blonde Blur Outfit
Christina has her own outfit in the very beginning of the new fanfiction, The Blonde Blur. She wears a regular grey top and white three-layer skirt under a dark purple dress coat. For footwear, she wears white laced boots with three inch-heels and soles. Finally, she is wearing two white gloves and a floppy sun hat with a grey ribbon on it.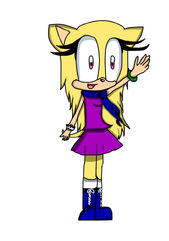 Tales of the Echo Outfit
For the Tales of the Echo series, Christina has a completely new outfit. She wears a purple tank top shirt, and a matching purple skirt that goes down to about her knees. Above it, she wears a blue scarf. For footwear, she wears white long socks and blue boots with white laces, and grey soles with no heels. Somewhere in the series, she has acquired two bracelets, one shaped like a leaf, and one shaped like a bunch of crystal shards.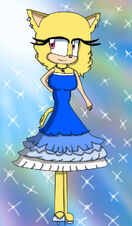 Fancy Outfits
Shades of Blue Dress
Christina wears her very own dress. She wears a blue short dress that gives off a radiant shine. Underneath it, she wears four layers of dresses underneath it. Formerly, it was all one dress, then Christina made a little improvement to make it like that. Storm also helped Christina by making a cool mist appear every time she twirls. Christina also wears four inch heels that have a crystalline glow.
Ballgown
For very important events, like Prom, or a Gala, Christina made a very amazing dress. It is an eggplant purple ball gown that completely covers her feet. The top part is strapless and is separated at the chest area with an elegant rose design and strand hanging out on the right side. When her hair was long, it was curled with two large parts intentionally kept straight and over her shoulders. Now, all of it is straight.
Sleepwear
Nightgown
She wears this only when she's sleeping at home. Christina wears a short white nightgown. It has a few ruffles on the top. Most of the time, she wears a pink robe, which she cut off to make it go down to her waist. It also has an upside-down shaped V cut off in the front, and a V shaped "tail" on the back.
Pajamas
Christina usually wears this when she's at sleepovers. She wears a white long sleeve shirt with a pink heart shaped pattern all over it. For pants, she wears purple pajama bottoms with two pockets. Finally, for footwear, she chooses pink fuzzy slippers.
Summer Wear
Swimwear

During the summertime, or when it's really hot, Christina wears a pale pink sleeveless crop top. Since it's short, her belly shows. She then wears a pale pink skirt to match her top. To complete this very simple outfit, she wears pink flip-flops. Since it's hot out, Christina ties her hair up in a really big ponytail.
Beach Wear
When she goes to the beach, Christina wears a completely different outfit. She wears a vibrant blue short shirt with two straps. She wears a blue matching skirt. For footwear, she wears open-toed velcro sandals that are a lighter shade of blue. Finally, she puts a flower on her right ear.
Winter Wear
Outdoors
Christina wears a pink, thin, wool sweater with long sleeves. It makes you feel warm even during ice-cold conditions. She also has a purple collar with balls on strings to make the sweater tighter. She also wears a matching purple skirt that is knee-length. To protect her hands, she wears white gloves. However, these don't conceal her elemental powers. For shoes, she wears pink short snow boots with pink fluffy stuff on top.
Indoors
Sports Outfit
Regular Sports
When she plays sports, like gymnastics or street fighting, she always sticks to one outfit. She pins her hair in a wild ponytail with a white barrette. She wears a magenta thin short sleeve shirt. For bottoms, she wears a dark grey flexible skirt, so she can be as sporty as she wants but still fashionable. For pants, she wears magenta boots with a dark grey middle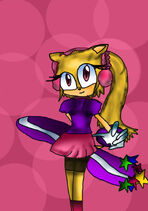 Sonic Riders
For this one, she likes to up her hair in a wild ponytail just like she does for sports, except she pins it higher because of the pink earmuffs. She wears a violet thick short sleeved shirt with a pink collar. Her skirt matches her collar. She wears a black unitard under her clothes, with a little bit hanging out from the top of her arms and legs. For boots, she wears hot magenta boots with a white middle.
Leotard
In gymnastics, Christina wears her hair in a high ponytail (formerly a bun when it was long), and a hot pink and white long-sleeved leotard.
Former Designs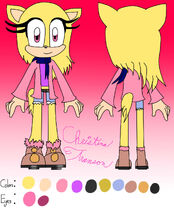 2015-2016 
In the middle of 2015, Christina cut her hair to go down to a little past her shoulders instead of to her waist like it normally is.
As of 2015, Christina wears a lavender colored short sleeve crop top, so her tummy shows. Over her top is a pink long sleeve jacket that stays unzipped most of the time, and usually covering her sleeves. For pants, she wears light blue denim daisy dukes with ripped white edges with a black belt with a silver buckle to tighten it. For footwear, she wears a reddish-brown colored pair of boots with two peach colored buttons on each shoe, pink fuzzy things on the top, and grey soles. For an accessory, she blue scarf with one end tied in the front, and one end tied to the side.
2014
Formerly, Christina wears a black and white horizontal and thick stripped top. She a pink sleeve with two parallel thin stripes. This is attached on her left sleeve. Along with this, she wears a blue tie around her neck. On her left arm, she wears a bracelet made entirely out of pearls. She wears a pink skirt with a white polka-dot pattern on it. For her footwear, she wears crystal sandals that go up to her knees. Like her bracelet, her sandals can glow. As a little accessory to complete her outfit, Christina wears a white circle pin with pink feather-like ribbon in her hair.
2012-2013
In the past, Christina wore a maroon-red thick-sleeved shirt. As a form of a necklace, she wears a pink color that covers up her entire neck. She also wears a pink skirt with pointy ends. She also has two pairs of shoes. One consists of just plain paler pink boots. The other consists of pink socks, and purple shoes with two white buttons on them.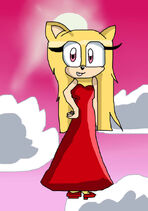 2010-2011
When Christina was first designed, she had a very simple design. She wore a beautiful long crimson ball gown with white gloves. Her hair was straightened, and she only had one eyelash per eye. For heels, she wore crimson five inch high heels.
Outfits
Community content is available under
CC-BY-SA
unless otherwise noted.