It's not called garbage Michelle, it's called art. The world is way too filthy, and throwing away trash makes things worse. So I figured, why not make the world a better place to live? And then I found out that this was the best way to do just that.


— Christina to rest of The Eight Mates in My Sweet Junk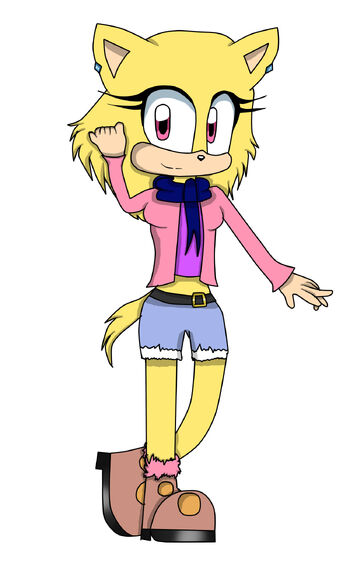 Christina the HedgeCat was a main character of the My Sweet Life series. She was a famous fashion icon who was one of the members of the eight mates, until she disappeared.
Information
General Information:
Name: Christina Sabrina Transon
Gender: Female
Age: 18 (At time of death)
Species: HedgeCat
Hair Color: Golden blonde
Eye Color: Pink
Marital Status: Single
Birthday: January 9, 1998
Occupation:

Student at MCA (Graduated)
Fashion Model
Clothing Designer
Status: Deceased
First Appearance: My Sweet Deal
Last Appearance: Pilot
History
My Sweet Life
Christina was the center of attention all throughout the My Sweet Life series. She was a fan favorite character of the show, and had almost half of the series' episodes revolve around her. According to the creator, she was the glue that kept the group together and close friends, even though she wasn't the main protagonist.
Summer of Sweet Secrets
Following the events of the finale of My Sweet Life, the day right after school got out. Alexis, David, Christina, Michelle, Thresh, Krys, Alyssa and Ricardo were all hanging out at Ricardo's den, over a bonfire. They all agreed to crash at his place to celebrate the first day of yet another amazing summer, and end of high school. They're all had a blast, and partied until 2AM. When they woke up, five hours later, Alexis noticed that Thresh and Christina have both gone missing.
The remaining six search for the two, for about thirty five minutes. They then later find Thresh on the edge of a cliff holding a shovel. Alexis then asked him where Christina went, and Thresh then looked down. A loud thump was heard, as they all ran down the hill of Ricardo's den, they find that there was a dent in the ground, but absolutely nothing there. Problem was, Christina didn't show up to anyone for the next day..... or week.... or month.
In the Pilot, it was revealed that there was a video of Alexis on the beach with her friends, with a blonde girl wearing a red coat walking by. This was assumed to be Christina, with the possibility of still being alive, which was shown to the first core members of The Originals.
However, in A Series of Surprises, a huge turn of events happened when Jamie told Alexis where Mimi was. Alexis then sent Alyssa to go talk to her to get more information on Christina's current status. Mimi confirmed that she threw her in a lake, and then a bunch of authority figures guarding the lake confirmed her death.
In the seventh episode, her funeral was held, and all five of the current Originals showed up at the event. It was a very sad day for all. Alyssa also got together with Storm, Emerald and Bloodstone to build a shrine in remembrance of her.
In Oh What Fun It Is To Ride a One Horse Open Sleigh, Christina "comes back" through Alexis's window when she has fallen deeply ill from CC's trap. She told her that there's no need to worry and that CC needs to be stopped. She doesn't know who CC is but she knows that she is very dangerous.
Personality
Christina was a very altruistic and humble person. She didn't like to brag and always put the needs of others first like they were her sisters. Extremely selfless, she would have done anything to keep her friends in a healthy and happy condition, no matter what it takes. She hated it when others said that she beats out every other model in the world and thought that it made her feel like she was boasting to the other models. Because of this, she had a very hard time making social connections and accepting compliments.
She was also never afraid to back down from a fight. Although she might have looked soft and an easy target, she was definitely a force to be reckoned with. She always believed that she can do anything if she put her mind to it, and always gave her all during her battles. She would always help a person up after she wins a battle, and then thank them for a great fight.
Nonetheless, Christina had a pure heart of gold. She was an inspirational figure and inspired others to feel better and more happy with themselves. She always gave inspirational and wise sayings that really gave people a boost in self esteem.
Physical Appearance
Christina was a hedgecat with golden blonde fur and matching beautiful hair without any bangs. It used to be long, until she donated inches of her hair to charity. Her skin and muzzle were peach, as well as her inner ears. Her ears were short, and she had no fur on her arms, but it covered her tummy. Her eyes were a pink color, with the sclera disconnected. She had a small and short shaggy tail like a cat sort of.
Christina wore a lavender colored short sleeve crop top,so her tummy showed. Over her top was a pink long sleeve jacket that stayed unzipped most of the time, and usually covering her sleeves. For pants, she wore light blue denim daisy dukes with ripped white edges with a black belt with a silver buckle to tighten it. For footwear, she wore a reddish-brown colored pair of boots with two peach colored buttons on each shoe, pink fuzzy things on the top, and grey soles. For an accessory, she was given a blue scarf with one end tied in the front, and one end tied to the side.
Relationships
Cole Starpower
Started: Before My Sweet Deal
Ended: Pilot
Reason: Christina died after she broke up with him
Daniel Gates
Kissed
Started: During the time jump
Reason: They both admitted they had feelings for each other
Trivia
Her scarf was given to her by her mother, Carly as a good-luck charm
Although she is dead in the series, she remains completely alive in the original Canon Universe
Her favorite color was obviously pink
CC was a nickname given to her by her sister, Lina, which could be why the anonymous figure texting the Originals goes by "CC"
Community content is available under
CC-BY-SA
unless otherwise noted.