Childhood
Early Years
One ordinary day, two parents, Carly the Cat, and Gold the Hedgehog, were in the hospital of Mariala City. The mother was about to give birth to a baby girl. Struggling in pain, a golden hedgehog came out. Carly gazed into her eyes and called her adorable. The doctor explained that the baby was a hedgehog-cat hybrid, or simply, a hedgecat. The two named her Christina, named after a cheerleader who Gold was close with, until she moved away.
Christina couldn't see the world yet, so she had no idea what was going on. Her older sister, Lina, thought she was a little annoying. When she got her own room, she loved being in her crib "under the stars". Her parents would always come in to check on her every 15 minutes. She always found her way out of her own crib, and rolled into her parent's room, right between the two.
When the time came at around 3 years old, Carly, her mother, entered Christina in her first ever pageant to earn the title, Miss Baby. The small dress she wore looked adorable on her, and with that dress and hat, she won the pageant and earned her first crown. She enjoyed it very much and had a lot of fun.
Also, around that time, Christina started to watch TV fashion shows, beauty pageants, and asks her parents to take her to see the models. Her all time inspiration, was none other than Persephone the Poodle. She was so in love with her designs, that she was dedicating her life to meeting her in person. And at that time, she took off.
When she first came into pre school, many of the boy toddlers were somewhat jealous of her beauty and wanted to hang out with her and fight over her. She was said to be a golden glory to the class and lightened up the teacher's day, even though she walks in with a Persephone the Poodle backpack, lunchbox, and sometimes clothing.
Starting Her Life
At the age of 6, she wanted to start her career;she wanted to start her dream of meeting Persephone the Poodle. She literally started to beg her mother to sign her up for pageants to earn crowns and ribbons. That's where her life began. The adorable six year old was walking down the runway and strutted her stuff. Being only 6, it was tough for her to put her own makeup on, so she often complained about her hair being curled to tight or her eye getting poked out
When she was 7 years old, in second grade, a group of bullies started to go around the school and call people ugly and make fun of them. Mimi the Cat, Jamie the Dog, Chloe the Cow, and Krys the Unicorn. They declared themselves the most beautiful people in the world. They shared Christina's dream of meeting Persephone, but now, they met their rival. The four met Christina, and she got picked on the hardest. Her peers were begging her to go up against them in a pageant and win a ribbon and crown to win against them, and she did just that. She won Grand Supreme and the 2 foot crown that comes with it.
The group of girls devoted their lives to get back for her on this, and then, they became worst enemies. She also realized that one of the girls, Krys, really hated the group and wanted to quit desperately, but she was forced to stay on the team. The two secretly became good friends. Christina then made it her all time dream to become known better in the fashion world.
A Terrible Moment
At that same time, Lina and Christina were awaken by the sound of Carly and Gold fighting. The two put their ears to the door, they heard slapping, and yelling and all kinds of drama. Carly said the words that ended it all, she and her husband were going to divorce. While Lina was horrified and almost wanted to cry a river, Christina had no idea what that meant, and so Lina explained it to her. Christina then was really heartbroken.
Five months later, Carly and Gold's divorce was finalized, and Carly was single. So Christina had to spend most of her time with her mother, and go visit her father at least six times a month until she finds somebody new, then it decreases to three times a month. It took time for Christina to adjust to this new life, but she got the hang of it in no time. She was very upset to see Carly and Gold all alone.
A Happy Day for Almost Everyone
A few years ago, Carly divorced Christina's father. After a few months, Carly started to grow an interest in a new guy. His name was Tempest. The two have been secretly dating for quite a long time. However, Christina nor her sister, Lina. Knew about this. Carly thought about it for a while, and she was done lying. She wanted to tell her two daughters that she has a new boyfriend.
A few weeks after Christina turned eight, Lina and Christina sat in a room with their mother, as she told them the new news. Both of them were surprised. Both of them were very eager to meet Carly's boyfriend. Carly took their advice. The next night, she invited them to dinner. Carly instructed them to call Tempest Mr. Svettreco, just to be polite. Tempest even brought over their two children, both a little younger than Christina. They all had dinner together. While Christina and Lina had fun with their children, they thought of Tempest as 'strange'.
During dinner, Tempest wanted to propose to Carly. He told her a few words, and then knelt down and opened up another diamond ring. He said those words. Carly looked at the children. Lina and Christina were both signaling "no" and "don't do it". Ignoring her children, she said yes. Lina wanted to kill herself and Christina was just a little depressed.
At her wedding, Lina wanted to go home and Christina was crying. It looked like tears of joy, but really, it was just her missing her real dad. Christina went up to say a few words. She gave a speech about how she felt strange having a new father. She brought up a few words about her old one. Crossing her fingers and putting her hand behind her back, she said that she'll love him. At least she'll visit her own father very often.
Meeting her Best Friends
When Christina was 7 and in the second grade, she got to meet a girl that she hears about all over the school. Her name was Alexis the Fox.The two girls started to hang out, and instantly became best friends. Christina realized that Alexis was her first true friend. However, one day the two realized that they need more people to hang out with. They need a group of friends! Starting their new friendship circle, they decided to expand it to another girl, who was superior in gymnastics, Michelle. The circle of friendship opened up to another member;David, Alexis's crush. As the four of them started to talk a lot.
A New Talent
One day, Michelle spotted Christina do a cartwheel. Being a great gymnast, Michelle admitted that she had perfect form and great legs. Michelle had a terrific idea that could bring the two of them closer as friends. She asked Christina if she could be her gymnastics coach. Christina thought of this to be a great idea, but at the same time a terrifying idea. She thought about it for quite a while.
She made her final decision. She told her, 'yes'. Michelle jumped up and down for joy! From there, Christina opened up a new chapter of her life to having Michelle coach her at her own gym. Christina was a quick learner, as she got dozens of new skills in a matter of only a week!
A Fashion Disaster
One day of a pageant, Christina was in a pageant and walked down the runway. Many people were taking photos of her and her gorgeous dress. When she was in the back of the curtain. she felt scratches on the back of her legs. She looked down, and her dress was torn apart. When she came back out for the awards, she was disqualified because they thought that Christina ruined her own dress. But they didn't know was that it was none other than Team Fashion! Christina ran in the back of the curtain crying, as Mimi surprisingly won the Grand Supreme Crown, and an extra ribbon to compete in the Fashion Festival.
One of the members, Krys, walked up to her and tried to cheer her up. At that moment, she realized Krys wasn't all that bad. Christina hugged Krys and Krys stroked her hair. Mimi came into the back room with her team, and Mimi was furious;she was hugging the enemy. Mimi rampaged, and kicked Krys out of Team Fashion. Christina realized that she scarified what she thought meant the world to Krys. Krys wanted to be her best friend because unlike the other three, she thought she was beautiful.
Meeting Her Weapon
At the age of 9 years old, a photo studio called Christina to model for a sports magazine. It was for Track and Field, and she was given a rusty javelin as a prop. Posing for the magazine, she was having fun with the javelin. She then threw it, and it traveled so fast, that it pierced a hole in a tree and made it knock down. With the incredible force, the photographers and paparazzi were overly impressed. Christina decided to keep the javelin and polish it up. She called it the Beauty Javelin.
She wanted to use it not just for show, but as target practice as a form of self defense. In secret, Christina always tried to improve her skills in throwing the javelin such as the speed, power, and angle. She even bought herself a target to use. This javelin was special. Her friends saw her using it one time, and thought that that could be her actual weapon. Christina wanted to keep on training with this until she could finally master this.
Mastering Her Elemental Power
When she was five, Carly decided to teach her daughter her ability to manipulate crystals. Christina was weak, and she struggled to learn this power, but within a few months of deep and hard training, she got used to it. She learned the basics, mechanics and all of that confusing stuff. She even improved over the course of time, learning more and more about her ability. One day, Carly thought Christina learned enough and stopped teaching her for a long time.
When Christina finally turned ten years old, her mother started to teach her even more about her abilities in manipulating crystals. Soon enough, Christina mastered this ability. Her mother wanted to test her;she challenged Christina to a crystal fight. Near the end, Carly almost finished Christina, but Christina turned over the tables and performed a move that her mother didn't teach. Carly was in shock;her own daughter overpowered her. Christina won the fight. Christina was about to finish her mother, but she begged for mercy. Her teaching was over. Carly let Christina go and let her experience more about her powers on her own;she didn't need a woman like her mother to mentor her.
Pre-Teen Years
A Second Element?
One day, when Christina was eleven, Alexis, Michelle and Christina were hanging out nearby a tree. While Michelle and Christina were using the branches as bars to practice gymnastics, she realized something weird. Every time she lifted her hand, a leaf rose. She started to raise and lower her hand a lot, and then suddenly all the leaves were doing it. Then she lifted both of her hands rapidly, and all the leaves suddenly fell off. Her friends were stunned. Christina can now manipulate leaves! Suddenly, she found a vine in her hand. She took it and pulled it;the vine stretched out. She can control vines to make them grow or shrink!
A year later, with the fact that now she has two element that she controls, she has been asked by her mother to conceal her crystal and ice powers in front of the camera or anyone else, but her friends are allowed to see it. It was hard for her to control it, but people don't seem to realize it yet.
Yet Another Path!
Michelle noticed that she started to improve drastically in all four apparatuses in gymnastics. One day Christina was at the Fifi Gymnasium doing gymnastics with Michelle. A mysterious and rich young lady walked by in her gym and spotted Christina's floor routine. She clapped for her, and Michelle bowed and said thank you. The woman walked up to Christina. She found her style and form to be flawless. She asked is she did any form of combat. Christina shook her head 'no'. The woman then gave her a card and asked her if she could mentor her in Street Fighting. Christina said she'd think about it, as the woman smiled and walked away. Her name was Emilie DeRochefort, and she lived in a mansion nearby Alexis's house. She then reminded herself to make her way to the mansion to talk to Emilie.
A week later, Christina thought about it, and made her way to Emilie's house. Her house was enormous. Christina rang on the doorbell and then knocked a few times. Emilie opened the door and recognized the girl. She told Christina to come in and have a seat. Her butler, Sebastian got her and Emilie a glass of warm tea. Emilie then told her that she prefers to be called "Lili". Christina then talked to Lili about her accepting her request. Lili stood up and shook her hand saying that her training sessions begin on Tuesday. It's four times a week, which could be a lot for Christina to juggle.
Teen Years
Early Adulthood
A Fresh New Start
Nineteen years old, Christina was tasked with a huge decision. Though business was booming for her in her home boutique in her basement, something else caught her eyes. Mariala City may be one of the biggest cities in the country, but she grew very tired of constantly designing clothes. Being the genius behind several lines selling in her basement as well as the Boutique Coture in the Mariala Mall, Christina wanted to expand her horizons. She feels like she left her mark on not only Mariala City, but the entire East Coast and wants to shine her brilliance and beauty on a different region.
Jobs were opening fast down in Eifflyn. Christina was called several times in the past to model ballgowns, swimsuits, and overall trending designs. She felt bad for turning down these rare and high paying offers for two and a half years to keep earning money from her own trendy products. However, she finally wanted to experiment and see what life would be like down in that area.
However, not only is she abandoning her fashion industry in Mariala City, but she's also leaving the close friends that she has known ever since she was in elementary school, and the league of heroes she's been affiliated with. At first, they tried to convince her to stay, but in the end they realized that it was ultimately Christina's personal choice. The night before she left, Alexis decided to throw her a surprise farewell party, while all of her friends invited. Alexis said she wanted to make her last night in her hometown the most memorable.
Christina drove herself to Eifflyn, which was an eight and a half hour drive When she finally arrived, even before looking at places to stay, she decides to change up her clothing with a fresh new look. People were quick to recognize her, and the first week was stressful. Christina stayed a week at the Viridian Resort, a highly expensive five star resort, before finding a comfortable home to buy.
Alternate Histories
In the rebooted Mariala Anime series, My Sweet Life, Christina is one of the main protagonists of the story. She is a member of The Eight Mates, a group of heroic and famous best friends. Christina is seen to be the modest one, as she puts others in front of her self, and thinks that she isn't the best there is. In this storyline, Christina has already met the main heroes, except in a different way:
Christina met Alexis when they were only two years old, and have played with each other for over 15 years. Christina met David at a Swag Fest. Christina met Michelle at a photo shoot. Christina met Alyssa when Alexis introduced her to Christina. Christina has known Krys since second grade. Christina met Thresh at a Swag Fest. Christina met Ricardo at the Paliside Cafe.
In the first season, exactly half of the episodes (13) revolved around Christina. A lot of horrible things happened with her. For example, she lost her house, she almost fell off of a cliff, she nearly lost her sanity, got her clothes sabotaged, and had to help her stepfather recover from amnesia. She also did many good and heroic deeds, such as rescuing her friend from becoming a weapon, had to pay 12 thousand dollars for a new ring, make peace with her mom and Alexis's mom, donated her hair to a little girl, started an upcycling club, had to cheer up Candlelight two times, and hosted one of the most gigantic family reunions in the world.
In the second season, Christina will be returning as this will most likely be her last season as one of the eight main characters that the plot focuses and revolves around. After that, seasons will come with different characters being the center of focus.
Christina is the head of Team Candlelight. She is on the team along with Nikki "Nikkell" the Hedgehog, Queen Silvia the Hedgehog, Princess Stella the Hedgehog, Valencia the Werefox, and Glinda the Ninetales. The six of them gone on many missions together. Sometimes they would even risk their own lives to save people.
Christina isn't very different from the main universe, except she seems to be a little less passionate about fashion and mroe concered about keeping her friendships with her friends. It seems as if the fanfiction series ended quickly.
Pre-Reboot
Christina is a frequently recurring character in this series. In this series, she is depicted as Neo's cousin by blood, which was first introduced when they were in a cave. At first this was only a theory, but then the theory was proved real because her mom was a chao-born. Much more about this is learned into a whole episode dedicated to finding out who Neo's parents were.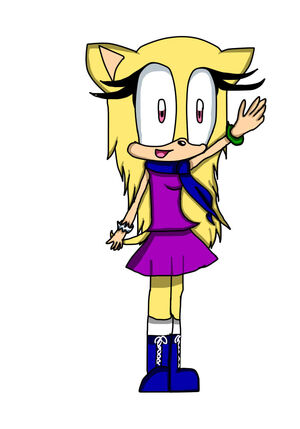 In this series, Christina appears to have acquired a new super form: The Glitter Form. It makes her whole body shine without her having to sing her melody.
Christina doesn't have any differences with her main counterpart.
Post-Reboot
Main Article: Christina "Christie" the HedgeCat/Tales of the Echo
Christina is a frequently recurring character in this series. In this series, she is said to be Neo's cousin. She often is seen as the beautiful and innocent one of Neo's group of friends.
In the Nitrogen218/Darkest Shadow Universe, Christina is a recurring character in the series. In the series, Christina still has her sweetheart personality, with her generous givings and modest nature.
In the first episode, where Krys and Raven meet, Raven asks Krys to meet one of her friends, so she drops in to visit her. Christina still works at her well-known boutique in her basement. When Raven and Krys walked in, Christina offered to make Raven some new clothes. Being a friend of Krys's, Christina was kind enough to not charge him for the new outfit. She wrapped it up in a gift box, and wrapping paper, and the two left joyfully.
In the third episode, Christina is working at her boutique, and she meets a girl named Trinity. Christina finds out that Trinity is the sister of Silver, Christina's cousin, which makes those two cousins. Trinity issues a little game of confession after the reveal, and Christina confessed the whole story about the gala, but from her point of view. Trinity also confessed that she had a crush on a boy that Christina knew, Raven. Christina then answered by saying that her best friend, Krys, is really tight with him. Christina then gossips about her boyfriend, typical Christie. Trinity then brings up Team Fashion, and they go to a private area to talk about that.
Then Trinity suggests that they should go and pay them a visit. So the two go to the mall, only to find Krys and Raven at the opening of a new store. Later on, it was revealed that Krys was really Mimi in the form of Krys's body, as Mimi ran away to swap out. Christina then goes on a hunt for the impostor. The real Krys escaped from the jail, and tried to run away, only to be mistaken for the impostor, and to be shot. Christina jumps in and takes a bullet for her, as she is dead. Remaining dead, Krys took the body into the experiment room and used a life spell to heal her, and Christina's heal hymn to take away the pain of the bullet.
While Krys is in search of Raven, Christina and Trinity devise a trap to trap Chloe. Those events end up in a showdown. Krys and Raven return and join the fight. Metal Raven badly hurt Krys, and Christina used her healing psalm to heal it. Christina and Krys use their special move, Crystal Jail, to trap them. Vultra then escaped the jail, and teleported them onto the face of the LOKI Station. Then, Raven was captured. What will Christina do next?!
Community content is available under
CC-BY-SA
unless otherwise noted.