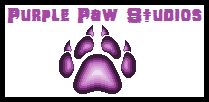 ~ This page is a creation of Purple Paw Studios ~
~~~~~~~~~~~~~~~~~
Basic Info
Full Name
Bianca the Turaco
Nicknames
Bi - pronounced "bee"
Species
Mobian/Red-Crested Turaco
Appearance
Description
Feathers:
Amazonite
,
amaranth red
,
Bleu de France
, and white
Eyes:
Antique fuchsia
Beak:
Amber
Biographical Info
Personal Info
Occupation
Freedom Fighter
Skills and Abilities
Abilities
Hand-to-hand combat
Flight
Bianca the Turaco is a member of the Efrika Plains Freedom Fighters.
Physical Description
A slender turaco who stands a little over three feet tall, Bianca has a fairly short, slightly curved beak, and medium-length, somewhat squared tail-feathers.
Her feathers are primarily amazonite in color, with white markings around her eyes and beak, and a white, diamond-shaped marking on her chest. Her forearms and wings are amaranth red in color, while her tail-feathers are Bleu de France in color. She has no hair on her head, instead having a large, amaranth red crest tipped with white that also extends past her shoulders. Her eyes are antique fuchsia in color, and her beak is amber in color.
Her outfit consists of a black tank top, indigo blue fingerless gloves with black cuffs and padding, indigo blue pants, and black boots with white cuffs and an indigo blue stripe down the front.
History
Base Stats
Stamina
Good
Strength
Average
Energy
Average
Durability
Average
Resistance
Average
Speed
Great - on land
Superior - flying
Reflexes
Great
Magic
N/A
Kinesis
Good
Intellect
Good
Other Stats
Eyesight
Great
Hearing
Great
Olfactory
Good
While isn't quite as physically strong as her comrades, she is quite fast, fast enough to be a reliable hit-and-run combatant, taking advantage of velocity to put a bit more power into her strikes. Being a bird, she is capable of flight, and is a bit faster in the air than she is on land, although her flight stamina isn't spectacular; she primarily goes for short bursts of air speed rather than long, sustained flight.
She is capable of aerokinesis, and primarily uses it to augment both her speed and physical strikes, further enhancing her hit-and-run playstyle. She can pull off some energy-based moves of the Wind Element, such as Wind Needle, and this helps her harass foes from afar if she needs to.
Strengths/Resistances
Bianca has no specific resistances to any Elements or energy-types. She is quite fast, and can easily outpace slower foes and evade their attacks; she can also nullify weak Poison-aligned techniques with her Aerokinesis.
Weaknesses
Bianca is weak to the Elements of Earth and Ice. Her defenses aren't anything special, therefore she mostly relies on her agility to try and evade potentially devastating attacks. Being physically restrained completely nullifies her Aerokinesis.
Friends and Foes
Friends/Allies
Rivals
Enemies
Family
Romance
Personality
A cheerful and bubbly girl, Bianca almost never seems to be sad. It's hard to upset her in general, and her friends seem to have difficulty being sad in her presence. She's idealistic, believing that there's good in everyone, and this often leads to her being rather naive and gullible; she can easily be tricked by those with silver tongues.
Positive Traits
Neutral Traits
Negative Traits
Quotes
Notes/Trivia
Gallery
Community content is available under
CC-BY-SA
unless otherwise noted.