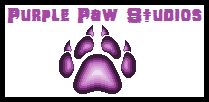 ~ This page is a creation of Purple Paw Studios ~
~~~~~~~~~~~~~~~~~
Basic Info
Full Name
Banjir the Dibbler
Relationship Status
Taken
Appearance
Description
Fur:
Blue bell
and white
Eyes:
Brown sugar
Biographical Info
Personal Info
Occupation
Ice Clan summoner
Skills and Abilities
Abilities
Basic combat
Summoning
Banjir the Dibbler is a summoner that serves the Ice Clan of Kyanos. He is also the boyfriend of Racoros the Ocelot.
Physical Description
A lean dibbler who stands a bit over three feet tall, Banjir has a somewhat short muzzle with a round nose, somewhat small, triangular ears that sit more at the sides of his head than on top of it, and a somewhat long, slender tail.
His fur is primarily blue bell in color, with a white muzzle, eye markings, chest, and stomach. He has no hair on his head, instead having a tuft of longer fur, and his eyes are brown sugar in color.
His outfit consists of a Catalina blue scarf, elbow-length Catalina blue gloves, and Catalina blue boots with white cuffs.
History
Childhood
Abilities
Base Stats
Stamina
Good
Strength
Average
Energy
Great
Durability
Average
Resistance
Average
Speed
Great
Reflexes
Great
Magic
Great
Kinesis
N/A
Intellect
Great
Other Stats
Eyesight
Great
Hearing
Great
Olfactory
Superior
As a Summoner, Banjir often relies on his Summoned creature, a Frost Imp named Jam, to aid him in combat. The bond he shares with his Summon makes her quite powerful, and the two fight alongside each other against their enemies.
This is not to say that Banjir is helpless without his Summon; he is an adept cryokinetic, and carries a dagger for extra protection. His cryokinesis is more defensive than that of the Battle Mages and Soldiers, however.
He is also quite agile, and can easily dodge the attacks of slow-moving opponents. However, he is fragile, and thus relies partly on his agility to survive without his Summon. Being a dibbler, he has strong jaws and sharp teeth, allowing him to deliver painful bites if he needs to.
Summon: Frost Imp
The creature that Banjir connected with early in his training as a Summoner, the female Frost Imp, which he named Jam, fights alongside her master.
Strengths/Resistances
Banjir is relatively resistant to the Elements of Ice and Water (his Ice resistance is somewhat higher, however). He is quite fast, and can easily outpace slower foes and evade their attacks.
Weaknesses
Banjir is weak to the Elements of Fire and Earth. He is also an all-around fragile combatant, and needs to rely on his Summon and his agility to survive. Being a manipulator of Ice, severe ambient heat can render his powers nigh useless. He's also easily distracted, making it easy for him to lose a fight if he can't keep his focus.
Friends and Foes
Friends/Allies
Rivals
Enemies
Family
Romance
Personality
Banjir, while very much friendly and easy-going, is also somewhat gullible and easily distracted; it's often up to his Frost Imp, Jam, to keep the dibbler focused on whatever task is at hand. Despite his scatterbrained nature, Banjir gets along well with the other people of the Ice Clan; in fact, he's even dating a tactician by the name of Racoros the Ocelot, and the two are very close to each other.
Positive Traits
Neutral Traits
Negative Traits
Easily distracted
Somewhat gullible
Quotes
Notes
His name is the Indonesian/Malay word for "flurries".
Gallery
Community content is available under
CC-BY-SA
unless otherwise noted.