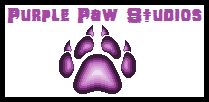 ~ This page is a creation of Purple Paw Studios ~
~~~~~~~~~~~~~~~~~
Alvorada
[[image:|150px|center|]]
Basic Info
Full Name
Alvorada the Lynxadger
Alignment
Lawful Neutral/Good
Relationship Status
Single
Appearance
Color
Fur:
White and silver
Hair:
Steel blue
Eyes:
Jungle green
Biographical Info
Personal Info
Occupation
Light Clan scout
Skills and Abilities
Abilities
Stealth
Basic combat
Alvorada the Lynxadger is a scout that serves the Light Clan of Celeritas. She is a crossbreed between a badger and a lynx.
Physical Description
A fairly slender lynxadger who stands a little taller than three feet, Alvorada, being a crossbreed, has the large, tufted ears of a lynx, and the bushy tail of a badger. Her snout is fairly short and somewhat tapered, and she has three whiskers on either side of her muzzle.
Her fur is primarily white in color, with a silver stripe running down the length of her tail, and two more running from her ears to the tip of her muzzle, going past her eyes. Her hair, which is shoulder-length and fairly straight, is steel blue in color, and her eyes are jungle green in color.
She wears a tube top with a vest over top of it, jeans and boots, as well as fingerless gloves.
History
Alvorada is first seen in Part 3, where she and the other scouts were spying on the Trolls.
Abilities
Base Stats
Stamina
Great
Attack
Good
Spcl. Atk
Average
Defense
Good
Spcl. Def
Average
Speed
Good
Reflexes
Great
Magic
Great
Psyche
N/A
Intellect
Great
Other Stats
Eyesight
Great
Hearing
Great
Olfactory
Superior
A bit sturdier than most scouts, Alvorada has decent power and a fair bit of speed behind her, as is befitting her class. She's still quite frail, however, and not meant for extended close-quarters combat; instead, she excels more in the realm of hit-and-run tactics.
Being part badger, she can dig and climb efficiently using her claws, while her lynx blood gives her good agility.
She wields a dagger for extra protection, and is an adept Solaramancer, primarily using defensive and utility-based techniques of the Light Element, with some simpler offensive ones (I.E. Holy Fist).
Light Abilities
Elementless Abilities
Status/Defensive Abilities
Resistances
Alvorada is fairly resistant to the Element of Light.
Weaknesses
Alvorada is weak to the Element of Darkness. Her defenses are quite subpar, forcing her to rely on her agility to survive.
Friends and Foes
Friends
Allies
Rivals
Enemies
Personality
Alvorada has the relatively quick temper of a badger. She's also known to have a rather crass sense of humor, but is well-meaning all the same. She sometimes wishes that she was a soldier instead of a scout, since she likes to get into the fray.
Likes
Dislikes
Biggest Fears
Quotes
Notes/Trivia
Her name is the Portuguese word for "dawn".
Community content is available under
CC-BY-SA
unless otherwise noted.