Welcome to Sonic Fanon Wiki!
Welcome to the
Sonic Fanon Wiki
, an online community dedicated to the creations and ideas of all fans of the
Sonic the Hedgehog
franchise. Please help yourself by looking at and discussing other
people's characters
, creating
own pages
, joining
roleplays
, or just having a good time on our chat room.
Since June 7th, 2008, we've had a total of 10,788 pages and -1 users.
Blogs Forum Rules / Policies New Page Our Staff Steam Group
| | | | | |
| --- | --- | --- | --- | --- |
| | | | | |
| Heroes | Anti-Heroes | Villains | Neutral | Pairings |
| | | | | |
| Locations | Items | Fanfiction | Roleplays | Fan Games |
Don't forget to take a look at our awesome tutorials!
Looking for a roleplay to join? Give these a look!
Want your roleplay to be put up here? Check this blog out!
GalaxyWorld27
This month we introduce yet another first-timer in the Featured User spotlight: GalaxyWorld27. A relatively new user, Galaxyworld is a gamer with a broad spectrum of interests in the anime and video game industry. His userpage is a place people who are interested may visit to learn a few things about him, such as his dislike of various sorts of unrelated things, from brocolli and gangsters to ... being betrayed.
Making characters is one of GalaxyWorld's most frequent engagements in the wiki, his most famous one being Azmaria the Hedgehog, a character that has garnered much attention over the years. Overall, GalaxyWorld is a "nice guy" that doesn't like " to be hacked and be trolled on all wikis", a person not to be trifled with. We hope he sticks around in the future and enriches our wiki with more of his exquisite content.
Q1: Are you excited to be Featured User for the first time?
A: yes i am.
Q2: Who's your best friend here in SFW?
A: i don't know. no friends yet on the Sonic Fanon wikia.
Q3: What other kind of video game franchises are you into?
A: Sonic the Hedgehog Series, Pokemon Series, Super Mario Series, Super Smash Bros, Series, Kid Icarus series, Star Fox Series Zelda Series and Fortnite Series.
Q4: Who is currently your favourite Youtuber?
A: GameXplain.
Q5: Why do you feel the need to write on your userpage that you don't like gangsters?
A: the reason for that is because i despite them and sometimes they beat up and kill people for no reason. there moms don't raise them like that.
Q6: Who is your favourite Sonic voice actor?
A: Roger Craig smith, Jason Griffith and Karen Strassman
Q7: Is there something you don't alike about adults or adulthood in general? Is growing up something you dislike?
A:  : well growing up is fine and ok but the only thing i don't like about adult hood from people is paying mortgages and when busy are a lot sometimes.
Q8: Which world event are you currently following? Is there any upcoming major event you are really looking forward to?
A: well honestly i don't know.
Q9: What's your favourite Internet meme?
A: : my favorite internet meme is find the computer room, and snooping as usual i see.
Q10: What were the best words you have ever heard about from someone about you?
A: mmm well i have no idea whatsoever.
[Click to Hide/Show Interview]
Congratulations to our new Featured User! Who will our next Featured User be? Let us see!
Select your candidate for Featured User!
Interviewer:
Juely
New HTML Widgets added!
— Published 22:44, April 20, 2016 (UTC) by Akrivus

New fancy coding widgets have been added!
---
Main Page Updated!
— Published 20:27, March 13, 2016 (UTC) by Akrivus
The main page has been updated to experiment with a new design and try to make it more friendly to joining users. Graphical formatting has been removed from the main page but will be added as the design is finalized. In the meantime, post your opinion and ideas here.
---
— Published 19:59, March 13, 2016 (UTC) by Akrivus
A new feature has been added; news; this allows users to read up on situations in a compact and clean manner. When you add a new news message, add one after the comment so that they are organized by date.
---
Would you like Sonic Fanon Wiki Awards to return?
Zeta the Echidna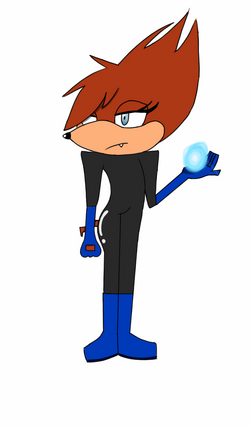 Zeta the Echidna is a 19 year old echidna-alien "hybrid" who works as a freelance assassin. Zeta is a female, auburn furred echidna with blue-grey eyes and a tan peach muzzle. She is quite tall for a Mobian due to her unusually long legs. Zeta is of average weight for her height. Her chest is rather flat, which causes some occasional teasing from others; Zeta largely ignores the teasing, however. She has bangs that partially cover her right eye, and her quills are swept upwards. Despite being infused with alien DNA, she has no physical alien traits.
# Q1: How long did it take you to come up with the character's backstory and draw her?
A) Zeta's backstory took a few minutes to figure out, maybe ten or a bit more. As for the drawing, I don't really remember how long that took.
# Q2: Where does her nickname "Probe Girl" stem from?
A) The nickname stems from her alien abduction. Alien abductions sometimes involve probing so some people assumed she was probed.
# Q3: What was the reason behind Zeta's and her father's abduction by the Greys and why did they impregnate her with their DNA?
A) The Greys had been observing Zeta's father and noticed that he was intrigued by them, so he seemed like an easy target. They took Zeta as well, because they wanted a younger test subject. Alien DNA was injected into Zeta for purely experimental purposes with genes.

# Q4: Where and how was she trained as an assassin?
A) I hadn't really thought of where she was trained as an assassin nor have I figured it out completely, though I assume it was in an assassin's guild of some sort in London. As for how, her teacher taught her how to go unnoticed and told her not to use any weapons or powers that would draw any attention.
# Q5: Is she more hero than evil or the other way around?
A) Zeta is usually straight in the middle, though sometimes she leans more towards the heroic side.
# Q6: Does she share any traits with you?
A) Well, we're both typically quiet individuals. We also act calm most of the time and we both can seem stoic.
# Q7: As a freelancer, what kind of assassinations is she usually employed for?
A) Most of the time, she doesn't assassinate major figures. She is mainly assigned to assassinating minor politicians or criminals.
# Q8: Does Zeta have a foul mouth? Did she learn it from her father?
A) She can have a sailor mouth at times, but her father does not swear often. She probably gets it from her mother.
# Q9: What was her most emotional moment in life?
A) Getting abducted as a child made her very emotional. It took some time for her to recover.
# Q10: Are Zeta's parents proud of their daughter being a lesbian?
A) Zeta's parents are fully supportive of their daughter's sexuality and are proud of her. So yes
[Click to Hide/Show Interview]

Read More About This Article...
Congratulations to our Featured Article! Now let's see our nominees for next month's Featured Article:
Choose Your Candidate For Featured Article
Community content is available under
CC-BY-SA
unless otherwise noted.