Welcome to Sonic Fanon Wiki!
Welcome to the
Sonic Fanon Wiki
, an online community dedicated to the creations and ideas of all fans of the
Sonic the Hedgehog
franchise. Please help yourself by looking at and discussing other
people's characters
, creating
own pages
, joining
roleplays
, or just having a good time on our chat room.
Since June 7th, 2008, we've had a total of 11,101 pages and -1 users.
Blogs Forum Rules / Policies New Page Our Staff Steam Group
| | | | | |
| --- | --- | --- | --- | --- |
| | | | | |
| Heroes | Anti-Heroes | Villains | Neutral | Pairings |
| | | | | |
| Locations | Items | Fanfiction | Roleplays | Fan Games |
Don't forget to take a look at our awesome tutorials!
Looking for a roleplay to join? Give these a look!
Want your roleplay to be put up here? Check this blog out!
Chamesthehero
Chamesthehero everybody. You know him, you love him, so here he is (again). As one of the few currently active administrators, Chames has a protagonistic role on the wiki, always willing to help anyone, new and old, and solve any issues around the wiki. Last time we had him featured was more than 3 years ago. Let's see what has changed about him since then.
Q1: Where are you from? Which is the biggest holiday in your country and what do you celebrate?
A: Born and raised in a big city in Brazil. Carnaval is definitely the most popular holiday here, alongside other Christian holidays.
Q2: Which would you say is SEGA's biggest success of the past decade regarding Sonic the Hedgehog?
A: ) It may be the Sonic movie design controversy that sparked interest in the character outside the fandom.
Q3: Is there any old user you met in the past when you first came here that you miss?
A: I've been in this place for around seven years, so I've seen many people come and go. Still, in the beginning? I have fond memories of talking to Nikki-Kaji.
Q4: Is there any particular genre of books that you like reading? Which is your favourite book and is there any book that you are interested in picking up and reading?
A: I like reading urban fantasy novels or non-fiction. My favorite book is "The Posthumous Memoirs of Bras Cubas" by Brazilian writer Machado de Assis. Currently, I'm interested in reading a book called "Kindred" by Octavia Butler.
Q5: Who is your favourite comedian and why?
A: Anyone that feels they are better than others online. It's a special kind of funny and sad.
Q6: Which Super form do you like the most from the Sonic franchise and why?
A: Archie comics' Titan Tails because of how hilarious it looks.
Q7: Is there something e.g. a hobby or an activity that you do in your everyday life that you wish you'd do more often?
A:  : Taking longer, hotter showers while listening to music.
Q8: When was the last time you cried?
A: Probably during some movie.
Q9: Tell me the most memorable scene or quote from a Sonic game or TV series that had any impact on you as a kid.
A: : I only got into Sonic during my early teenage years. The most memorable scene must've been Blaze's sacrifice in Sonic 06, which fueled Silvaze flames and made me open to that side of the fandom long ago. Now that I'm older, it's more difficult to get emotionally invested in anything related to this franchise.
Q10: What are your expectations of 2020?
A: Regardless of all the buzz January may have had, just like any other year, I hope 2020 will bring new, exciting opportunities for me.
[Click to Hide/Show Interview]
Congratulations to our new Featured User! Who will our next Featured User be? Let us see!
Select your candidate for Featured User!
Interviewer:
Juely
New HTML Widgets added!
— Published 22:44, April 20, 2016 (UTC) by Akrivus

New fancy coding widgets have been added!
---
Main Page Updated!
— Published 20:27, March 13, 2016 (UTC) by Akrivus
The main page has been updated to experiment with a new design and try to make it more friendly to joining users. Graphical formatting has been removed from the main page but will be added as the design is finalized. In the meantime, post your opinion and ideas here.
---
— Published 19:59, March 13, 2016 (UTC) by Akrivus
A new feature has been added; news; this allows users to read up on situations in a compact and clean manner. When you add a new news message, add one after the comment so that they are organized by date.
---
Are you going to watch the upcoming Sonic film?
Melanie Cambell the Cat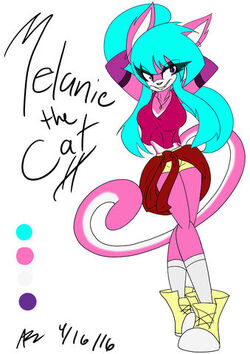 Melanie is a somewhat short feline at around 5'12, with a curvy body type. Her fur is a hot pinkish color with the undeside of her tail and feet being white. Her chest, stomach, and crotch are also this color, as well as her inner ears and muzzle. Her eyes are a dark, lovely purple color. Her hair is an eye catching turquoise color and her hair reaches the back of her thighs if let down all the way. She's usually wearing shorts and tank tops (or any other dance clothes she can think of) while she usually wears skirts, heels, and cute tops when not dancing.
The Interview
# Q1: Is she a likeable "person" in general?
A) To some degree, yes. Like minded folk can find themselves getting very buddy buddy with Melanie, although being a more down to Earth and genuinely nice and caring might put her off in some ways.
# Q2: Where does her attitude stem from?
A) She's very competitive when it comes to her craft, being supported by her family that wants nothing more than for her to go for gold and nothing less, so you could say that it stems from the overwhelming support (and high expectations) from her friends and family.
# Q3: What kind of dances does she dance and which is her "specialty"?
A) She's most accustomed to anything modern or 'urban' if you will, and sort of mixed in sensual movements. Her styles can usually vary depending on the kind of music she's dancing to.
# Q4: What is her relationship wit the Poppies?
A) Melanie is a loyal friend to Annabelle, the Poppies leader, and has opened a door to the dancing world and the opportunities for popularity and positive reputations through a different means of performance, seeing as most Poppies are more focused on singing or acting. So she has a well established bond with the clique.
# Q5: Has she ever been humiliated in front of a crowd when performing?
A) More than likely. If I had to imagine a situation like that, it would have more than likely been during her earlier days when her competitive streak was at its worst, and perhaps she had tripped up and fallen flat on her face to her own shock and horror, or perhaps she was passed up for the winner of a competition and came in 3rd, or runner up, resulting in a no doubt tantrum.
# Q6: Who is she most jealous of and why?
A) As a headcanon, Melanie has sort of had a bubbling hatred for a group known as The Dancing Treasures group. They've crossed paths more than once, but Melanie would never make her annoyance and hatred towards them seem anything like jealousy.
# Q7: How did her parents realised she loved dancing and why did she pick up dance classes in the first place?
A) If I had to guess, it would more than likely be when Melanie was very young, attempting to copy people off of television and constantly asking for her parents to watch her tiny rendition of popular music videos. They figured that perhaps this would be a successful route, if their daughter stuck with it all the way through. That, and perhaps they wanted to gloat about their daughters skills and hobbies to their friends. Melanie never really had many other huge interests, as she was a relatively simple child, but it seemed like dancing was this entirely new form of self expression that slowly became a way of life for her over the years.
# Q8: Do you like dancing?
A) I do, but that doesnt mean I know how to, haha.
# Q9: Does she have any fans?
A) Social media wise and such, she has many loyal followers and people inspired by her, especially old school mates who joined the dance squad with her in her high school days.
# Q10: Is she more of an artist or a competitor?
A) A little of both. She plans on focusing all of her time on bettering her skills so that she may become a choreographer, but in her spare time usually competes to boost her ego and make her enthusiastic parents proud. That, and she just seems to thrive on competition.
[Click to Hide/Show Interview]
Read More About This Article...
Congratulations to our Featured Article! Now let's see our nominees for next month's Featured Article:
Choose Your Candidate For Featured Article
Community content is available under
CC-BY-SA
unless otherwise noted.