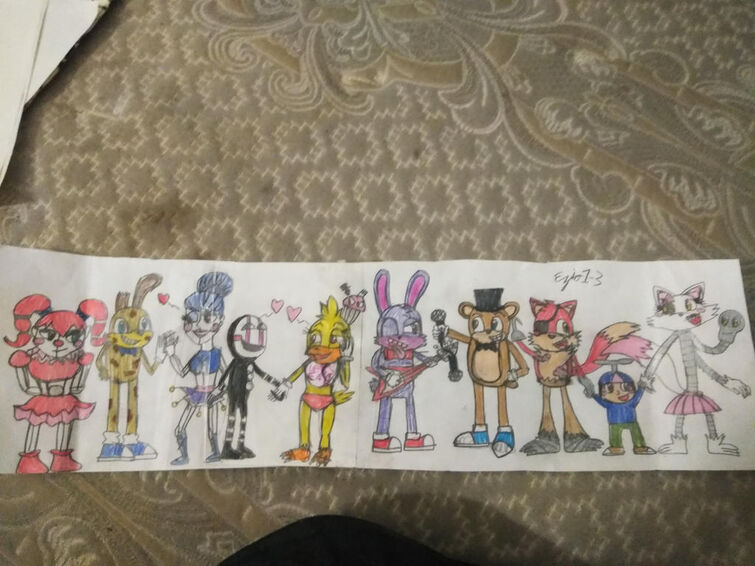 I never played FNAF, but I still was inspired to do this, but my own version!
The Pizza Party Freedom Fighters are all entertainment robots that run their own pizzaria. They look organic, but are robotic mobians with fake skin, fur and feathers. Each one brings power to the team, and they love making children smile. But don't mess with them unless you want a painful lesson.
Freddy the Robot Bear is the leader of the crew, and has a passion for singing. His strengths in battling evil from Dr Eggman are vice-like jaw strength, bear strength that lets him pummel with ease, and his mic-chuks that act as both a weapons and singing equipment.
Bonnie the Robot Rabbit is the wild card in the group, and wants to be a rock star. In addition to vice-like jaw strength, he can shoot magical musical blasts from the sick riffs on his guitar. Seriously, the music doesn't hurt your ears: It hurts your body! He thinks o Freddy as a big brother.
Foxy the Robot Fox, Mangle the Robot Fox, and Balloon Boy the Robot: see bios here: ezio1-3.deviantart.com/art/Son…
Chica the Chicken is the quirky one, and is noted to be kind, but also a little ditzy. She loves pizza the most, but refuses to eat anything else, with the exception of cupcakes. Speaking of which, are her main weapons and power other than biting power in her beak, but no ordinary cupcakes! These sentient robotic cupcakes are glitter bomb fireworks that can leave evil in pieces! Chica is currently dating another member of the gang: Marionette.
Marionette the Robotic Puppet is the black sheep of the family: He aims to make the kids smile, but is thought of as creepy instead of cute. He really tries, though. While he doesn't have the biting power of most of the others, he does have a better weapon against evil: he can shoot lasers out of his eyes! He is currently dating Chica, much to the discontent of her cupcake bomb fireworks.
Ballora the Robot is the most beautiful in the group, and loves to dance ballet, and can dance-fight enemies into next week! She is currently dating Springtrap.
Springtrap the Robot Rabbit is the tough guy in the group. He can survive better than the rest, and always comes back from fighting evil with a smile on his face. He refuses to repair his broken ear as he feels it makes him look cool. He is currently dating Ballora.
Baby the Robot is the shyest member of the group, but likes to sing. She can shoot exploding balloons from her hands, and has a crush on Freddy.